On November 23, we are proud to be hosting
Champion rock climber, Alex Honnold.
We will be hosting him at All Saints Church as he talks about his new book about climbing and free solo climbing, Alone on the Wall. Tickets are available through this link HERE.
One of our Children's Department Supervisors, Eric, is also an avid climber and fan of Alex's. He came up with six questions that we could ask him in preparation for his event. 
To find out more about Alex Honnold, visit his website HERE.
————————————————–
6 Questions with Alex Honnold
What was it that originally excited you about rock climbing?
I just always loved climbing on things. Tree, buildings, whatever. I liked getting on top of things, I liked being up high. That's probably still what I like most about climbing. 
2. What has been the most challenging rock climbing experience you have faced?
As I describe in Alone on the Wall, the Fitz traverse with Tommy Caldwell was probably the hardest climbing experience of my life. Almost 5 days of continuous climbing in difficult alpine terrain. It was a huge adventure for me.
3. Have you found rock climbing to be beneficial to other aspects of your life and if so what parts of it are and how has it been?
Well, climbing has pretty much formed the core of my whole life so it's influenced all aspects of my personal growth. It's given me my work ethic [what little there might be] and taught my about setting goals and working towards them. It's allowed me to travel which has given me a much broader perspective on the world.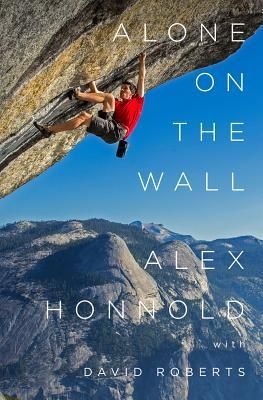 4. What inspired you to write this book?
I've read a lot of memoirs like this in my life and always found them pretty inspiring. When David approached me about writing this book together it just seemed like the right time. It felt like my turn to contribute a little. And it's also nice to tell my stories in a longer form than YouTube videos and climbing films. Nice to consider things in more depth.
5. You are a role model for many young climbers and a celebrity within the rock climbing community. Who are the climbers that inspire you the most and why?
As a kid I was most inspired by Peter Croft and John Bachar, legendary soloists from the last generation. Plus a host of more modern climbers like Tommy Caldwell and Dean Potter. And of course Chris Sharma. Basically I've always looked up the best climbers – people who were pushing the sport in cool new directions.
6. What advice would you give to a person who is interested in rock climbing or is just beginning to explore rock climbing?
I generally tell beginners to focus on good technique and good footwork. Climbing is mostly about body position and less about strength. But mostly I would just say that if someone's psyched about climbing they should get out and try.
{ 0 comments }