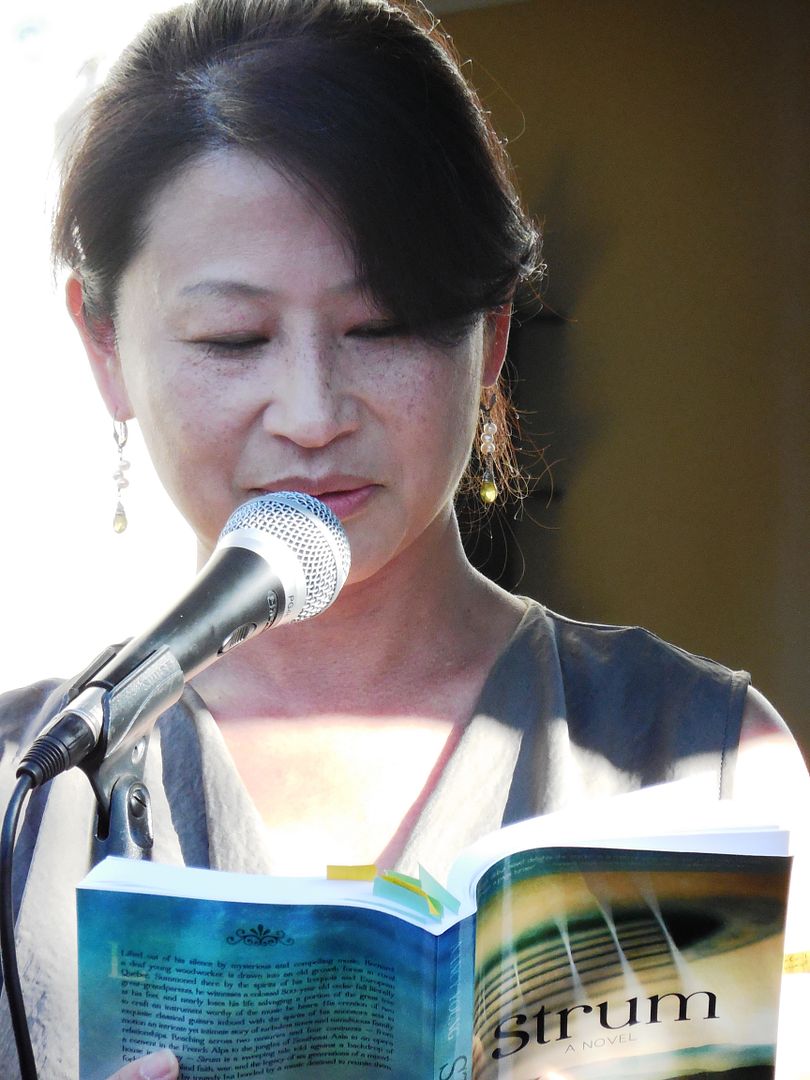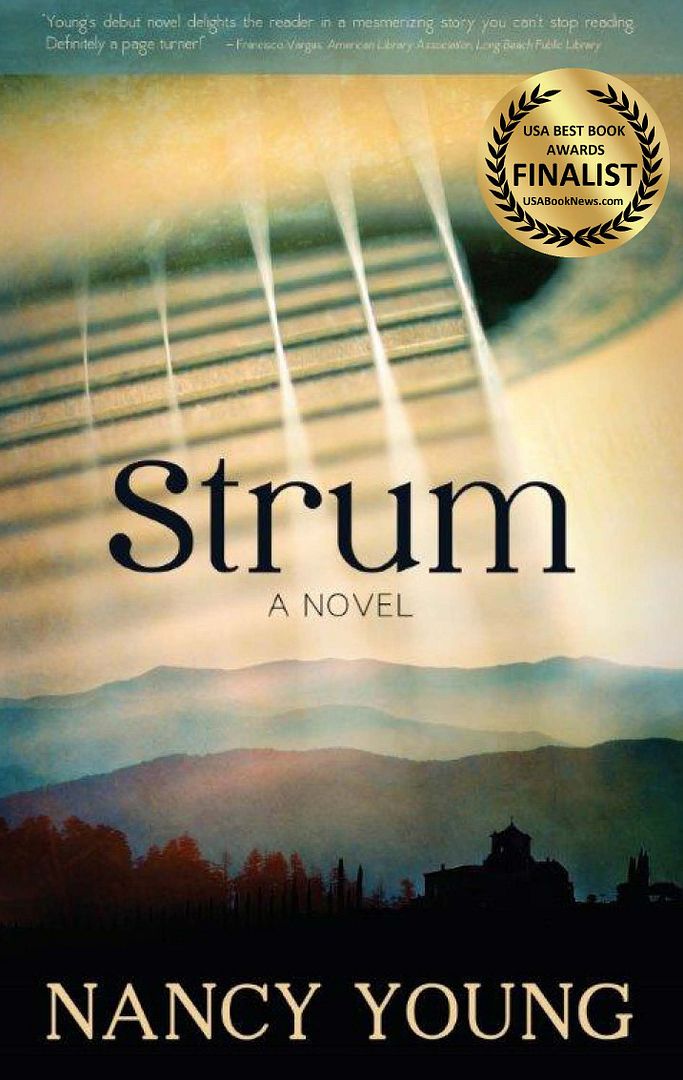 Nancy Young's, Strum, has been getting a lot of buzz lately.
Strum has just won the
2014 USA Best Book Finalist Award in Fiction: Literary
bringing the total up to 6 awards for the book!
Nancy has been having a great year!
We were able to ask her six questions to feature on the blog.
Read on to hear more about Strum and Nancy Young!
Our Main Store (695 E. Colorado) has only a few copies available! Stop by and pick yours up today. 
How and when did you know that writing was going to be your path in life?
I started reading at a very young age, at 3 actually, and spent a lot of time in the library just reading from one end of shelves to the other! I read the entire Narnia Chronicles by 4th grade and Agatha Christie collection by 5th. By the time I was 12, I started writing short stories and have kept a diary continuously since then. English was my favorite subject in school. I grew up here in Pasadena: I was newspaper editor at Eliot Jr. High and Yearbook Editor-in-Chief at John Muir High. I worked at Vroman's during high school and college – long before Old Town was created.
After my first year in college at UCLA, I decided to take a year off and moved back East, and had an opportunity to get a job working for the Vice Dean of the Harvard Law School, who was also an author of legal thriller novels set in Africa (he was a legal consultant to African governments). I helped him edit his second book and from there knew I would be a writer someday. I wanted to join Peace Corps and travel, but he encouraged me to finish college first (well, it was a requirement of Peace Corps anyway) and I eventually did and graduated from UC Berkeley with a B.A. in English.
At the time I wanted to become a photo journalist, author or editor for a publishing company, but got recruited into Public Policy in my junior year and went on to get two Master degrees in in Public Policy/International Affairs (Columbia U) and Asian Studies (History/Business from U of Hawaii). As a result I've done a lot of technical writing – hundreds of grants, policies, business plans and marketing guides for government agencies in Australia and nonprofit organizations in the US.  I finally published my first short story in 2000 in an anthology called Sweet Sisters & Other Secret, published by Zonta International, and my first novel Strum in 2013.
Is there any genre that you're interested in exploring?
My first book Strum is a historical/literary fiction, with magical realism, multiculturalism, music, politics and a bit of mystery too. It actually covers a few genres already! I loved Agatha Christie as a kid and I think I could do a fairly good job at murder mysteries, but ultimately, literary fiction is my genre.  I wrote my senior thesis on James Joyce's Ulysses – that was a cutting edge novel that broke all the boundaries of writing at the time. I don't know if I could do it, but I aspire to break ground somehow, some day! Right now I'm exploring creating a musical audio book for Strum (and the series).  I recorded the first chapter with a sound effects orchestra live a while ago and would like to do it for the complete book, which would mean commissioninig a composer to write some new music.  I'm conducting a GoFundMe campaign to raise the funds to do it.  I also have an art exhibition planned in April as a fundraiser.  I was a painter and artist at one time as well.
Strum took you five years to write, that's a long time! How did it feel once it was out in the world and people were picking it up to read?
It took one year to write, three years to rewrite and another to edit!  It was my first novel so of course I wanted it to be perfect (perhaps an unattainable goal, but one keeps trying!), and of course feared the actual process of finding a publisher or agent.  I ended up self-publishing kind of by accident rather than by design, but once it was out there in the world I just wanted EVERYONE to read it!  It's like having a child – you want it to do well and to be loved by others!  Winning the six awards tells me that those who do pick it up to read (judging panels made up of editors, publishers, reviewers, and publicist, I'm told) all seemed to have found it worthy. Now I just need more readers and the public to know about it, read it, and hopefully love it!
You've traveled a lot! Do you have a favorite place? Is there a place you haven't been that you're really looking to visit?
My all-time favorite trip was the 7 week trek from Jiri to Kala Pattar on the Everest Trail in the Himalayas.  It is described in detail as an important journey in the latter half of Strum.  Strum is about journeys, personal and metaphysical.  All the characters travel on various journeys that really test them. Some succumb, others overcome… it is a metaphor for life. I haven't been to much of Africa, aside from a stopover in Egypt on my way back from Saudi Arabia years ago with my family, but I would love to go to Senegal, Tunisia, and Morocco.  It always makes me think of Albert Camus' L'Etranger which I read in college, and which filled me with a sort of quiet terror that really challenged me. I imagine brilliant blue skies, dessert sunsets and lavish bazaars. This, combined with Portugal and southern Spain, would be my next bucket list travel.
What are some rewards and some challenges you've faced with the success of Strum?
I self-published Strum because it seemed like the right thing to do. The industry was changing… authors could keep control of their rights and bring a book to the public with their own vision, words and aesthetic intact. I liked the idea of being part of a revolution.  Since then, Strum has gone on to win six (6) book awards, including one which competed with mainstream publishers – and came out a Finalist! I've been getting quite a bit of publicity lately, and we'll see whether it translates into sales yet, or not.  Time will tell, but meanwhile the publicity duties are getting in the way of the writing of the next book!
But, in the end, it's still a self-published book and it has to finance its own publicity, as well as get itself out to the public.  With the success of Strum, I feel an urgency and obligation to match the sales with the critical success.  I'm hopeful the publicity I've been getting since winning the awards will help do all that, but if I could do it again, I would seek a mainstream publisher to bring it to the reading public, because it takes a whole lot of time and money to market a book. That's what a publisher is for – to bring a book out with a whole marketing division behind it so it has the best chance out of the gate.
Of course, lastly, we have to ask you what's next?
I've been asked by a lot of potential readers to please bring out an Audible version so they can hear it in their cars as they drive in this LA traffic — commuting to work, delivering kids to school, or while on vacation.  Time is so rare these days.  To be able to enjoy a good story, people need to fit them into their busy, sometimes hectic lives.  So, I would like to do just that. Strum is a special book that features very beautiful music, which will bring the story to life!  When I launched Strum, I had a movie special effects orchestra to back up my various readings and it was fantastic!!  The rest of the world needs to hear this version, so I started a "GoFundMe" campaign to help me fund this new musical endeavor.  Getting it into the hands of the right film director, agent or producer is also high on my list.  The book started out as a screenplay and clearly it is a visual feast, one which would translate very nicely into an epic film with lush cinematography and art direction.
Meanwhile, I'm starting to write the second book in the Strum series: the tale continues from the Everest trail, where Neena, a young Vietnamese-Australian doctor returns to find a brilliant Sherpa lad who has sequestered himself in a remote Tibetan monastery.  The story again returns to 19th century France to discover the fate of a Franciscan priest, Tomas, whose baroque guitar finds its way to Canada where the story all began. The third book's plot is yet to be determined, but will traverse the globe again (perhaps to the Middle East or South America) and culminate in the multi-ethnic world of New York and San Francisco.
If you would like to see Nancy speak about Strum in person
she has a few events coming up!
Sunday December 14, 3pm – Gatsby Book (Long Beach)
January 24, 2:30pm  Long Beach Library on   at Mark Twain Library
February 21, 2pm – Local Author Fair (Pasadena Library)
Arroyo TV & Channel 32 – First week of January