You're likely to find interesting art anywhere you look in Pasadena. From wall murals to the electrical boxes on the street corners. However, there are a few festivals and exhibits coming up over the next few months that are worth jotting down on your calendars!
The Art of Getting There: Railroad Inspired Artistry
March 29 through August 13, 2017
Ever since the debut of railroads, whether for passenger or freight service, so many people have been "romanced by the rails." Curators Michael Patris and Steve Crise of the Mount Lowe Preservation Society will celebrate the history and beauty of railroads and trains through this exhibit of railroad art.
The Art of Getting There: Railroad Inspired Artistry features paintings, photography, carvings and sculptures that celebrate the technical innovation and artistry of railroads. In addition, there will be several unique artworks from private collections from the nineteenth century to contemporary art.
This exhibit is going to be featured at the Pasadena Museum of History. The hours for this exhibit are Wednesdays through Sundays from 12:00pm to 5:00pm. The Museum is closed on all major holidays and the schedule could be affected by Rose Bowl events. Make sure to check their calendar!
This exhibit requires tickets. Tickets are: $7 General; $6 Students & Seniors; Members receive free admission for 2 & Children under 12 are free. For more Museum information visit the official website HERE.
---
Vroman's Art on the Stairwell
featuring Shelley Couvillion
Currently on Exhibit: Girls Can Be Heroes Too – Feminist Fairtytales
These pieces are a force to be reckoned with! Next time you're in the area make sure to stop in to check out our newest Artist on the Stairwell.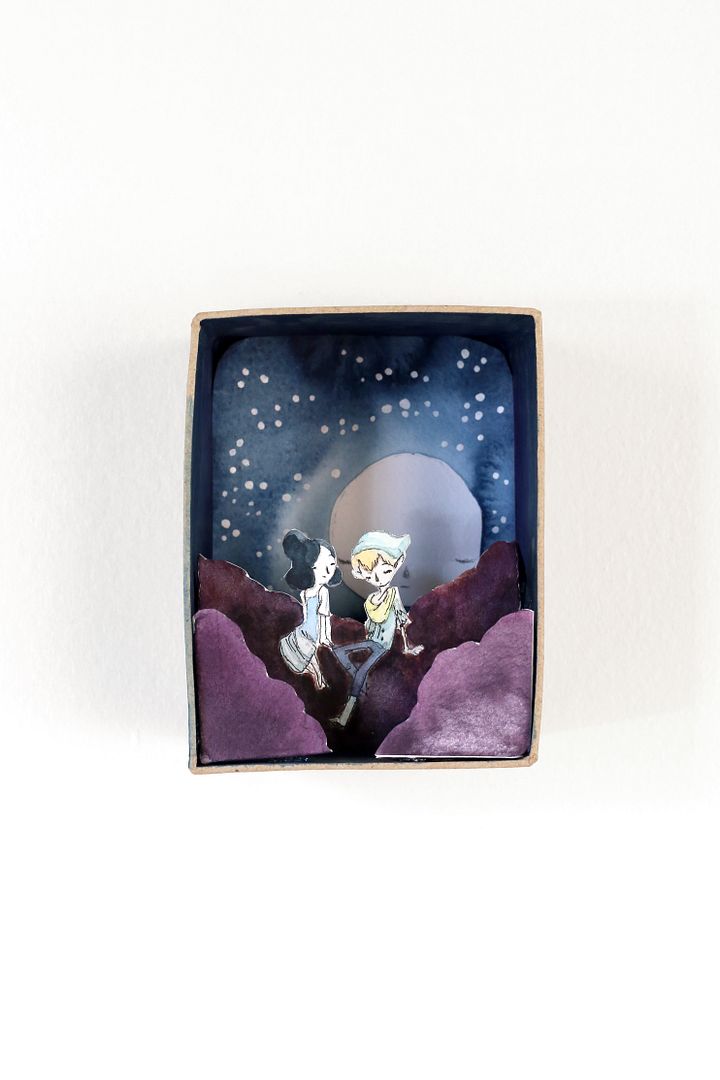 Growing up in Southern California, Shelley Couvillion's interest in the relationship between words and pictures started young. Shelley loved to listen to her mother read books aloud about all manner of things, from the Seals of Antarctica to The Little House on the Prairie. Shelley has always struggled with two seemingly opposing pulls in her life. Wanting to be the character with the sword, and wanting to be someone's mom. Now that she is a mom, she's decided there's nothing wrong with being both and wants her daughter to grow up in a culture where being kick-butt and a girl aren't mutually exclusive.
While still in high school, Shelley drew her way into the Santa Ana Community College Art Department. While there she received the Art Department Award for Sculpture, Excellence Award for Sculpture, Art Promotion League Award for Life Drawing,and the Fred and Barbara Meiers Memorial Award for Painting.  Shelley has since joined The Society of Illustrators of Los Angeles and begun showing her work in the local galleries, at comic conventions and pursuing work as a children's illustrator for books and magazines. She also drew 83 pages of a web comic titled House On Writer's Block. You can find some of her recent work on the cover of local author Robin Puelma's books The Missing Crimoire and The Naming of Colton Black.
Her work is inquisitive, layered and often described as enchanting. Her characters create a sense of joy while her environments inspire a sense of wonder. The use of watercolor in her work tends to depict a soft and inviting quality. Making her work easy to fall into and exciting to explore. Though she feels it's less of a struggle to relinquish control in her daily life, she is compelled to construct every line, petal and cheek with utmost care. Recently she's started to work in gouache which plays to her strength of control. But she also sees the benefit of a more relaxed brush and hopes to continue incorporating those movements into her work. Shelley plans to continue to strengthen her visual storytelling abilities and looks forward to illustrating for children's magazines such as Cricket, Muse and Illustroia, while also pursuing opportunities to illustrate children's books.
You can find her online at ShelleyCouvillion.com or on Instagram @Shelley_Illustration
---
Pasadena Chalk Festival
June 17 & 18th (Father's Day Weekend!) 
You HAVE to see these artists in person to really get a feel of the work they do. The Pasadena Chalk Festival has become one of the area's most sought out arts attractions. The Festival had a humble beginning in front of City Hall in 1993. Over the last 24 years, it has blossomed into an amazing two-day festival with about 600 artists outside the Civic Center.
This specific type of art also crosses into the realm of performance art as you can catch the artists working on their pieces as you're strolling around the grounds.
Not only will you get to see great art pieces and witness the magic being creating but there are a bunch of different areas to spend the day checking out. There will be live music and entertainment all day on the Main Stage. A Kids Chalkland area where kids can create Father's Day Cards and get FREE face paintings done from 12pm-5pm. If you're starting to get hungry there are plenty of shops and restaurants all around the Paseo Colorado to help you make a day of it!
For more information or to find out more about what the festival has to offer visit the official website HERE.
---
Let us know if there are anymore exciting art exhibits you are looking forward to over
the next few months!