We have got a packed August in store! Seriously packed. PLUS our Annual Tent Sale!!
We have some great debut authors and some old hats.
Ease yourself into back to school season by coming out for some of these events!
Monday August 3, 7:00pm
Dani Klein Modisett discusses and signs Take My Spouse Please: How to Keep Your Marriage Happy, Healthy and Thriving by Following the Rules of Comedy
This humorous take on marriage shows you how the true keys to marital bliss and success are surprisingly the same as the cardinal rules of comedy.  In love, as in comedy, timing is everything. One bad night doesn't mean it's time to quit. Have patience: great marriages, like a successful comedy career, take time. Turns out the cardinal rules of comedy have an uncanny resemblance to the rules of building a strong marriage. With humor and grace, Dani Klein Modisett shares a map for navigating your marriage through rough patches, bad jokes, and even nights when you bomb.  Take My Spouse, Please shows how thirteen tried-and-true rules of comedy, when applied to marriage, keep you and your spouse connected, enjoying each other, and getting through tough times. Along with anecdotes from well-known comedians, comedy writers, marriage counselors, and long-term spouses, Dani delivers the core premise: humor matters. (Trumpeter)
Tuesday August 4,  7:00pm
Mario Garcia in conversation with Raul Ruiz, Gloria Arellances & Rosalio Munoz to discuss & sign The Chicano Generation: Testimonios of the Movement
This is the story of the historic Chicano Movement in Los Angeles during the late 1960s and 1970s. The Chicano Movement was the largest civil rights and empowerment movement in the history of Mexican Americans in the United States. The movement was led by a new generation of political activists calling themselves Chicanos, a countercultural barrio term. This book is the story of three key activists, Raul Ruiz, Gloria Arellanes, and Rosalio Munoz, who through oral history related their experiences as movement activist to historian Mario T. Garcia. As first-person autobiographical narratives, these stories put a human face to this profound social movement and provide a life-story perspective as to why these individuals became activists. (University of California Press)
Thursday August 6, 6:00pm
Literary Trivia Night at Hastings Ranch! 
Brush up on your literary knowledge and join us for some fierce competition!
Free to play, all ages welcome. Refreshments will be served and there will be prizes for the winners, too!
Thursday August 6, 7:00pm
Benjamin & Peter Van Leeuwen present & sign
Van Leeuwen Artisan Ice Cream
In the summer of 2008 the Van Leeuwen team rolled out their first two yellow ice cream trucks in New York City. Now, with over seven years of ice cream making under their belts, Laura, Ben, and Pete are delighted to share their recipes and stories with you.  With an emphasis on traditional practices and artisanal ingredients, Van Leeuwen Artisan Ice Cream will teach you how to make these delicious scoops at home and give you the foundation to create any flavor your heart desires. (Ecco Press)
Friday August 7, 7:00pm
Sylvia Sukop, Lynell George & Laura Pulido discuss & sign Latitudes: An Angeleno's Atlas
LA is a seemingly endless combination of unique geography, communities, and cultures that calls for a literary vision of its complex landscape of humanity and geography inspired by Rebecca Solnit's Infinite City. (Heyday Books)
Saturday August 8, 10:30am
Antoinette Portis presents & signs Wait
As a boy and his mother move quickly through the city, they're drawn to different things. The boy sees a dog, a butterfly, and a hungry duck while his mother rushes them toward the departing train. It's push and pull, but in the end, they both find something to stop for.  Acclaimed author/illustrator Antoinette Portis' signature style conveys feelings of warmth, curiosity, humor and tenderness in this simple, evocative story.  (Roaring Brook Press)
Saturday August 8, 2:00pm
Celebrate the release of What Pet Should I Get at Hastings Ranch! 
We are going to read Dr. Seuss's new What Pet Should I Get book!
After the reading kids are welcomed to participate in coloring pages and puzzles.
Saturday August 8, 4:00pm
Livia Blackburne & Michelle Levy discuss & sign Daughter of the Dusk and Not After Everything
This evening will be moderated by Mary McCoy.
In Daughter of the Dusk, Kyra, after learning the truth about her bloodlines, can't help but feel like a monster. Though she's formed a tentative alliance with the Palace, Kyra must keep her identity a secret or risk being hunted like the rest of her Demon Rider kin. Tristam and the imprisoned assassin James are among the few who know about her heritage, but when Tristam reveals a heartbreaking secret of his own, Kyra's not sure she can trust him. And with James's fate in the hands of the palace, Kyra fears that he will give her away to save himself. As tensions rise within Forge's Council, and vicious Demon Rider attacks continue in surrounding villages, Kyra knows she must do something to save her city. But she walks a dangerous line between opposing armies: will she be able to use her link to the Demon Riders for good, or will her Makvani blood prove to be deadly? (Disney)
In Not After Everything, Tyler has a football scholarship to Stanford, a hot girlfriend, and a reliable army of friends to party with. Then his mom kills herself. And Tyler lets it all go. Now he needs to dodge what his dad is offering (verbal tirades and abuse) and earn what his dad isn t (money): He needs a job. It s there that he reunites with Jordyn, his childhood best friend, and now the token goth girl at school. Jordyn brings Tyler an unexpected peace and, finally, love. But with his family in shambles, he can t risk bringing Jordyn too deeply into his life. So when violence rocks Tyler s world again, will it be Jordyn who shows him the way to a hopeful future? Or after everything, will Tyler have to find it in himself? This tough, realistic page-turner reveals a boy's point of view on loss and love. Fans of Eleanor and Park, The Spectacular Now, and Julia Hoban's Willow won't be able to put down this gritty but hopeful love story about two struggling teens. (Dial Books)
Sunday August 9, 2:00pm
IWOSC Reads Its Own
IWOSC Reads Its Own is a spellbinding afternoon of eclectic, eccentric, and exemplary works — from poems to true stories to hilarious monologues and beyond, read aloud by distinguished IWOSC scribes. Fifteen of IWOSC's talented member writers will read short excerpts from their work.  We'll be regaled with their wit, have our emotions stirred, or be plunged into deep thought.  First-time and return readers will share their work.  Selections may be published, unpublished, or works in progress, several minutes in length. For more information, see www.iwosc.org or contactinfo@iwosc.org.
Tuesday August 11, 7:00pm
Victoria Patterson with Michelle Huneven to discuss & sign
The Little Brother
Life is pretty sweet for Even Hyde. Despite his parent's divorce in 2001, he's doing just fine, having chosen to live with his richly successful father in Newport Beach, California. When not spending bonding time with his partially absent father, he has his run of the house, where he more or less comes and goes as he pleases.  Even's older brother Gabe continues to live in Cucamonga with their emotionally unstable mother. Though he feels discarded and left behind, Gabe visits Even and their father on the weekends.  Even doesn't seem too worried about Gabe s quick-to-ignite temper or his evolving addiction to skipping school and smoking weed.  But then Gabe commits a crime so unbelievably heinous that Even can't forgive his own flesh and blood for it. In his personal recounting for  The Little Brother, Even shares the events immediately following his brother and two of his friends savagely gang raping (while videotaping) an unconscious girl. When Gabe somehow ends up losing the video tape (which ends up in Even's hand) it is up to Even to make the life-changing decision: does he do the right thing and turn his own brother in to the police or does family come first? (Counterpoint)
Wednesday August 12, 6:30pm
J. Ryan Stradal discusses & signs Kitchens of the Great Midwest
Kitchens of the Great Midwest, about a young woman with a once-in-a-generation palate who becomes the iconic chef behind the country's most coveted dinner reservation, is the summer's most hotly-anticipated debut. When Lars Thorvald s wife, Cynthia, falls in love with wine and a dashing sommelier he's left to raise their baby, Eva, on his own. He's determined to pass on his love of food to his daughter starting with pureed pork shoulder. As Eva grows, she finds her solace and salvation in the flavors of her native Minnesota. From Scandinavian lutefisk to hydroponic chocolate habaneros, each ingredient represents one part of Eva s journey as she becomes the star chef behind a legendary and secretive pop-up supper club, culminating in an opulent and emotional feast that s a testament to her spirit and resilience.  Each chapter in J. Ryan Stradal's startlingly original debut tells the story of a single dish and character, at once capturing the zeitgeist of the Midwest, the rise of foodie culture, and delving into the ways food creates community and a sense of identity. By turns quirky, hilarious, and vividly sensory, Kitchens of the Great Midwest is an unexpected mother-daughter story about the bittersweet nature of life its missed opportunities and its joyful surprises. It marks the entry of a brilliant new talent. (Pamela Dorman Books)
In honor of J. Ryan's wonderful book, this evening we invite attendees to share their love of food with each other by bringing your favorite dish to our special book event/potluck! Meet J. Ryan, learn about Kitchens of the Great Midwest and enjoy the potluck. If you are planning on bringing a dish please call the Will Call department at 626-449-5320 to let us know what you will be bringing! We will be putting the dishes out by 6:30 and starting the event shortly thereafter. 
Thursday August 13, 7:00pm
Jenny Milchman discusses & signs As Night Falls
From the acclaimed author of Ruin Falls and Cover of Snow comes a breathless new novel of psychological suspense about a dark, twisted turn of events that could shatter a family a read perfect for fans of Gillian Flynn, Chris Bohjalian, and Nancy Pickard.
Sandy Tremont has always tried to give her family everything. But, as the sky darkens over the Adirondacks and a heavy snowfall looms, an escaped murderer with the power to take it all away draws close.  In her isolated home in the shadowy woods, Sandy prepares dinner after a fight with her daughter, Ivy. Upstairs, the fifteen-year-old smart, brave, and with every reason to be angry tonight keeps her distance from her mother. Sandy's husband, Ben, a wilderness guide, arrives late to find a home simmering with unease.  Nearby, two desperate men on the run make their way through the fading light, bloodstained and determined to leave no loose ends or witnesses. After almost twenty years as prison cellmates, they have become a deadly team: Harlan the muscle, Nick the mind and will. As they approach a secluded house and look through its windows to see a cozy domestic scene, Nick knows that here he will find what he s looking for . . . before he disappears forever.  Opening the door to the Tremont home, Nick brings not only a legacy of terror but a secret that threatens to drag Sandy with him into the darkness. (Ballantine Books)
Friday August 14, 7:00pm
James Sie discusses & signs Still Life Las Vegas
When Walter Stahl was five-years-old, his mother drove away in the family's blue Volvo and never came back. Now seventeen, living in the dregs of Las Vegas, taking care of his ailing father and marking time in a dead-end job along the Strip, Walter's life so far has been defined by her absence. He doesn't remember what she looks like; he's never so much as seen a photograph but, still, he looks for her among the groups of tourists he runs into every day, allowing himself the dim hope that she might still be out there, somewhere.  But when Walter meets Chrysto and Acacia, a brother and sister working as living statues at the Venetian Hotel, his world cracks wide open. With them he discovers a Las Vegas he never knew existed and, as feelings for Chrysto develop, a side of himself he never knew he had. At the same time, clues behind his mother's disappearance finally start to reveal themselves, and Walter is confronted with not only the truth about himself, but also that of his family history.
Threading through this coming-of-age story are beautiful, heart-wrenching graphic illustration, which reveal the journey of Walter's mother Emily: how she left everything to chase a vision of Liberace across the country; and how Walter's father Owen went searching for her amongst the gondolas of the Venetian Hotel. In James Sie's debut novel, Still Life Las Vegas, the magical collides with the mundane; memory, sexual awakening and familial ties all lead to a place where everything is illuminated, and nothing is real. (St. Martin's Press)
Saturday August 15, 11:00am to 4:00pm
Zine Workshop at Hastings Ranch! 
We will be continuing our zine workshop. Zines, comics & other forms of diy (self publishing). Illustrators/writers of all ages welcome!!!

Saturday August 15, 4:00pm
Shari Shattuck discusses & signs Becoming Ellen
Returning in the bestselling tradition of Jennifer Weiner, Shattuck brilliantly illustrates the deep friendship between two absolutely unforgettable women in this touching yet funny novel.
Ellen Homes is done being invisible. Well, sort of. Living with her closest friends, Temerity and Justice, has helped her step out of the shell of invisibility she once hid away in. She still seeks refuge in solitary time and observing from afar, but she has pushed herself to open up to others in ways that bring her unexpected happiness. But when a terrible bus crash upends her normal routine, Ellen finds herself on a whirlwind crusade for the unseen and downtrodden. Only this time, helping others including two young children with no one else to turn to will mean facing a pain from her past that she s long tucked away.
Picking up where Invisible Ellen left off, Becoming Ellen returns us to the touching, poignant, and compassionate world of Ellen Homes as she learns how to navigate the world she has decided to become a part of. (G.P. Putnam's Sons)
August 16, 4:00pm
Be a part of our FLASH READ MOB!
At 4pm, we'll make a SOUND over the intercom at Vroman's. When you hear the SOUND, allVroman's Campers should sit down on the floor and start reading whatever book you have with you. You can read silently to yourself or read aloud with a friend or family member. We'll all read for five minutes, and then you'll hear another SOUND that signals the end of the flash read mob. 
Beginning his career on a lark as a freelance contributor to SCRABBLE News, John D. Williams fell down a rabbit hole inhabited by gamers, geeks, and the grammar police. For twenty-five years, as the executive director of the National SCRABBLE Association, Williams served as the official spokesperson for the game, and as the middleman between legions of fanatical word-game fans and the official brand. Now Word Nerd takes readers inside the byzantine, dog-eat-dog world of top tournament players, creating a piquant (seven-letter word, 68 points!) work that is part pop-cultural history, part anthropological study. Indeed, what Christopher Guest did for the world of dog shows in his film Best in Show, Williams does for the world of competitive word games in this funny and perfectly observed memoir.
As readers will discover, Word Nerd explores anagrams, palindromes, the highest-scoringSCRABBLE plays of all time, the birth of the World SCRABBLE Championship, as well as many of the more colorful figures that inhabit this subculture. Die-hard word fans will find invaluable tips on how top players see their boards and racks to come up with the best play, how they prepare, and the psychology of tournament competition. Those uninitiated in the mysteries of SCRABBLE mania will find a delightful, madcap memoir about all the fun people have with language and how words shape our lives and culture in unexpected ways. (Liveright Publishing Corporation)
Tuesday August 18, 2:00pm
Celebrate the release of The Day the Crayons Came Home at Hastings Ranch!
Join us for the release of The Day the Crayons Came Home. After the reading we will have a fun craft that you can take home.
Tuesday August 18, 7:00pm
Meg Waite Clayton discusses & signs The Race for Paris

The New York Times bestselling author of The Wednesday Sisters returns with a moving and powerfully dynamic World War II novel about two American journalists and an Englishman, who together race the Allies to Occupied Paris for the scoop of their lives. Normandy, 1944. To cover the fighting in France, Jane, a reporter for the Nashville Banner, and Liv, an Associated Press photographer, have endured enormous danger and frustrating obstacles including strict military regulations limiting what women correspondents can. Even so, Liv wants more. Encouraged by her husband, the editor of a New York newspaper, she s determined to be the first photographer to reach Paris with the Allies, and capture its freedom from the Nazis.  However, her Commanding Officer has other ideas about the role of women in the press corps. To fulfill her ambitions, Liv must go AWOL. She persuades Jane to join her, and the two women find a guardian angel in Fletcher, a British military photographer who reluctantly agrees to escort them. As they race for Paris across the perilous French countryside, Liv, Jane, and Fletcher forge an indelible emotional bond that will transform them and reverberate long after the war is over.
Thursday August 20, 7:00pm
Laila Lalami discusses & signs The Moor's Account
**PULITZER PRIZE FINALIST**  /  New York Times Notable Book / Wall Street Journal Top 10 Book of the Year / An NPR Great Read of 2014 / Kirkus Best Fiction Book of the Year!!
In these pages, Laila Lalami brings us the imagined memoirs of the first black explorer of America: Mustafa al-Zamori, called Estebanico. The slave of a Spanish conquistador, Estebanico sails for the Americas with his master, Dorantes, as part of a danger-laden expedition to Florida. Within a year, Estebanico is one of only four crew members to survive.  As he journeys across America with his Spanish companions, the Old World roles of slave and master fall away, and Estebanico remakes himself as an equal, a healer, and a remarkable storyteller. His tale illuminates the ways in which our narratives can transmigrate into history and how storytelling can offer a chance at redemption and survival. (Vintage)
Friday August 21, 7:00pm
Sande Craig discusses & signs Motivation and Power Sources: Maps to the Present Moment Guide Book
Learn how to discover, identify and create your personal motivation and power sources!   MAPS will help you create new ways of thinking that are both uplifting and creative, opening your heart and mind to new possibilities.  You will be shown how to use these powerful, self-help tools to change your thinking, enhance your confidence and build self-esteem.  Most of all, MAPS will bring you into the present moment, the conscious NOW, where your true power resides.
MAPS to the Present Moment is a guide to conscious living. MAPS, your personal motivation and power sources will navigate you from confusion to clarity, from discouragement to hopefulness and they will restore positive thinking and feeling! (Balboa Press)
Saturday August 22, 4:00pm
Celebrate Penguin's 80th Birthday!
Come celebrate Penguin's 80th birthday with local sales rep, Tom Benton.
Penguin is synonymous with the best books in paperback, from ancient to contemporary classics.We will have Penguin giveaways, lots of surprises, and cake, of course!
Sunday August 23, 3:00PM
Josh Kuhn in conversation with Roy Choi to discuss & sign To Live in Dine in L.A.
How did Los Angeles become the modern city the world watches? We know some of the answers all too well. Sunshine. Railroads. Hollywood. Freeways. But there's another often overlooked but especially delicious and revealing factor: food. Think veggie tacos and designer pizzas, hot dogs on sticks and burgers from golden arches, Cobb Salads and chocolate-topped ice cream sundaes, not to mention the healthiest dishes on the planet. Ask anyone who has eaten in L.A. the city shapes the tastes that predict how America eats. And it always has. With more than 200 menus – some dating back to the nineteenth century – culled from thousands in the Menu Collection of the Los Angeles Public Library, To Live and Dine in L.A. is a visual feast of a book.
Monday August 24, 7:00PM
Jennifer Steil discusses & signs The Ambassador's Wife
From a real-life ambassador's wife comes a harrowing novel about the kidnapping of an American woman in the Middle East and the heartbreaking choices she and her husband each must make in the hope of being reunited.  When bohemian artist Miranda falls in love with Finn, the British ambassador to an Arab country, she finds herself thrust into a life for which she has no preparation. The couple and their toddler daughter live in a stately mansion with a staff to meet their every need, but for Miranda even this luxury comes at a price: the loss of freedom. Trailed everywhere by bodyguards to protect her from the dangers of a country wracked by civil war and forced to give up work she loves, she finds her world shattered when she is taken hostage, an act of terror with wide-reaching consequences.
Diplomatic life is a far cry from Miranda's first years in Mazrooq, which were spent painting and mentoring a group of young Muslim women, teaching them to draw in ways forbidden in their culture. As the novel weaves together past and present, we come to see how Finn and Miranda s idealism and secrets they have each sought to hide have placed them and those who trust them in peril. And when Miranda grows close to a child who shares her captivity, it is not clear that even being set free would restore the simple happiness that once was hers and Finn s. Suspenseful and moving, The Ambassador's Wife is a story of love, marriage, and friendship tested by impossible choices. (Doubleday Books)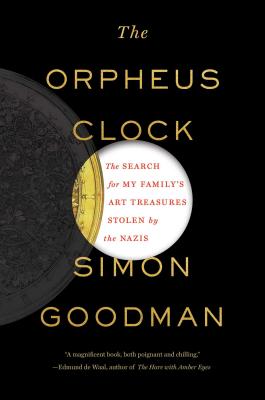 August 25, 7:00PM
Simon Goodman discusses & signs The Orpheus Clock: The Search for My Family's Art Treasures Stolen by the Nazis
The passionate, gripping, true story of one man's single-minded quest to reclaim what the Nazis stole from his family, their beloved art collection, and to restore their legacy.  Simon Goodman's grandparents came from German-Jewish banking dynasties and perished in concentration camps. And that's almost all he knew about them–his father rarely spoke of their family history or heritage. But when he passed away, and Simon received his father's old papers, a story began to emerge.  The Gutmanns, as they were known then, rose from a small Bohemian hamlet to become one of Germany's most powerful banking families. They also amassed a magnificent, world-class art collection that included works by Degas, Renoir, Botticelli, Guardi, and many, many others. But the Nazi regime snatched from them everything they had worked to build: their remarkable art, their immense wealth, their prominent social standing, and their very lives.  Simon grew up in London with little knowledge of his father's efforts to recover their family's prized possessions. It was only after his father's death that Simon began to piece together the clues about the Gutmanns' stolen legacy and the Nazi looting machine. He learned much of the collection had gone to Hitler and Hermann Goering; other works had been smuggled through Switzerland, sold and resold to collectors and dealers, with many works now in famous museums. More still had been recovered by Allied forces only to be stolen again by heartless bureaucrats–European governments quietly absorbed thousands of works of art into their own collections. Through painstaking detective work across two continents, Simon has been able to prove that many works belonged to his family, and successfully secure their return.  With the help of his family, Simon initiated the first Nazi looting case to be settled in the United States. They also brought about the first major restitution in The Netherlands since the post-war era.  Goodman's dramatic story, told with great heart, reveals a rich family history almost obliterated by the Nazis. It is not only the account of a twenty-year long detective hunt for family treasure, but an unforgettable tale of redemption and restoration. (Scribner Book Company)

Wednesday August 26, 5-8:30PM
Evening with the Yarnover Truck
The Yarnover truck will be parked in our back parking lot
from 5pm-8:30pm! They will be spending the evening with us checking out all the lovely craft books and having lots of yarn for you to check out as well!
Thursday August 27, 7:00pm
Sue Grafton in conversation with Denise Hamilton for X (Kinsey Millhone Mystery #24)

Sue Grafton's X, perhaps her darkest and most chilling novel, it features a remorseless serial killer who leaves no trace of his crimes. Once again breaking the rules and establishing new paths, Grafton wastes little time identifying this sociopath. The test is whether Kinsey can prove her case against him before she becomes his next victim.  (Marian Wood Books/Putnam)
This is a ticketed event.
Tickets are $30.00 + tax and include one ticket and one copy of X.
Tickets cannot be shipped. We are now accepting paid reservations.
You may purchase your tickets online at vromansbookstore.com or by calling the Will Call department at 626-449-5320.
Tickets and books will be available for pick-up from the store location beginning the date of the book's release, Tuesday, August 25.
Tickets cannot be shipped.
Reserved tickets and books may also be picked up at the Will Call table at the venue the evening of the event.
The venue is All Saints Church, 132 N Euclid Ave, Pasadena, 91101.
Tickets and books may be available for purchase at the venue, while supplies last. 
To purchase your TICKET for this event please click HERE. 
Friday August 28, 7:00pm
Gen Kelsang Rigpa discusses & signs
How to Understand the Mind: The Nature and Power of the Mind
This book offers us deep insight into our mind, and shows how an understanding of its nature and functions can be used practically in everyday experience to improve our lives.  "Part 1" is a practical guide to developing and maintaining a light, positive mind – showing how to recognize and abandon states of mind that harm us, and to replace them with peaceful and beneficial ones.  "Part 2 "describes different types of mind in detail, revealing the depth and profundity of the Buddhist understanding of the mind. It concludes with a detailed explanation of meditation, showing how by controlling and transforming our mind we can attain a lasting state of joy, independent of external conditions. (Tharpa Publications)
Saturday August 29, 3:00PM
Jules Moulin discusses & signs Ally Hughes Has Sex Sometimes
When a buttoned-up professor and her unbuttoned daughter fall for the same irresistible man, a delightful, subversive comedy begins. . . . Life isn't easy for single mother Ally Hughes. Teaching at Brown, her class load is huge and her boss is a menace. At home, she contends with a critical mother, a falling-down house, and a daughter who never misses a beat. Between taking care of the people she loves, teaching full time, and making ends meet, Ally doesn't have time for a man. She doesn't date. She's not into flings. But then she meets Jake, an eager student, young in years but old in soul, who challenges his favorite professor to open up her life, and her heart, to love. It doesn't work. In fact, his urging backfires.  Ten years later, Ally's still single. Jake reappears and surprises her in a brand-new role: He's dating Ally's now-grown daughter. In this hilarious, heartrending tale, Ally is finally forced to concede (not only to herself) that an independent, "liberated" woman can still make room in her life for love. (Dutton Books)
Jules will be presenting her new novel and hosting a writing workshop for those aspiring writers. 
Sunday August 30, 1:00PM
Vroman's Local Author Series (Kids Edition) introduces Veda Stamps, Elise Gross & Luca Nicoletti


Veda Stamps discusses and signs Flexible Wings
Veda Stamps' critically acclaimed novel, Flexible Wings, is a fictional exploration of the lives of military children. This book, written for preteens, delves into themes of sports, community support and volunteerism as a way to help children and their families through difficult times. In Flexible Wings, an eleven-year-old girl of mixed race uses competitive swimming to navigate her fears of her fighter pilot mom's impending military deployment.
Elise Gross & Luca Nicoletti present and sign Book of Wonders
This is a collection of illustrated short stories written by two friends who share a love for writing. Elise (age 9) and Luca (age 10) have worked on this book throughout the school year and are excited for you to read this.