Jeff Guinn is a former award-winning investigative journalist and the bestselling author of numerous books, including Go Down Together: The True Untold Story of Bonnie and Clyde, The Last Gunfight: The Real Story of the Shootout at the O.K. Corral and How It Changed the West, and Manson: The Life and Times of Charles Manson.
We hosted him for Manson and are excited to welcome him back to celebrate his brand new book, The Road to Jonestown about Jim Jones and the People's Temple. Guinn dives deep into the story behind Jim Jones with an incredibly in depth account of Jim Jones' life leading up to the Jonestown Massacre.
We were able to ask Jeff a few questions in anticipation for his visit to the store.
You don't want to miss this event! Join us on Monday, April 24 at 7pm to hear more!
---
Congrats on another massive hit with this telling of the Jonestown story! What made you want to tackle this story in particular?
After writing about the 1960s in Manson, I wanted to chronicle how America moved forward into the 1970s. After preliminary research, it seemed to me that only two events in the '70s still resonated with most modern-day readers: Watergate and Jonestown. I felt I could bring nothing new to the subject of Watergate; it's been exhaustively chronicled in hundreds of books. But it seemed to me that no one had ever researched and told the full story of Jim Jones and Peoples Temple.
What do you remember hearing about the Jonestown Massacre as it happened? Do you remember what your thoughts were on it?
Like virtually everyone else, I was simultaneously horrified and mystified. The number of deaths was staggering; so was the sense of, "How could so many people do this to themselves?" Soon, of course, I was routinely saying, "Don't drink the Kool-Aid," as that phrase became a permanent part of the national lexicon.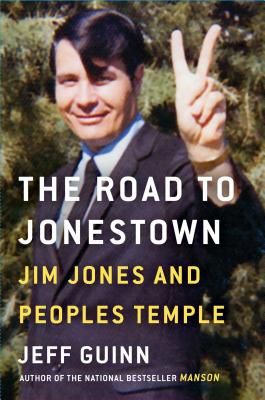 The research in The Road to Jonestown is incredible (as it is in the rest of your books). What did your research process look like and how long did it take?
It took just about three years to research The Road to Jonestown, which included going everywhere Jim Jones had (with the exception of Belo Horizonte, Brazil) and meeting with as many people who'd been involved with him as possible. I read just over 66,000 pages of information obtained from the FBI through the Freedom of Information Act. And I went to Guyana and cut my way through the jungle to the site of Jonestown.
True crime has always been around but recently there has been a huge surge in its appeal. There are podcasts galore and an abundance of shows and movies popping up on streaming. Why do you think people are so fascinated by these stories?
We all enjoy a vicarious sense of sharing drama and excitement. Hopefully most of us also want to learn from true crime sagas – what danger signals are there if we'll only notice them? How do we protect ourselves from similar dangers?
What is your biggest fear?
As a writer, that I'll get the story wrong or completely miss some critical component.
Besides the stories you've already covered, do you have any other favorites you'd want to cover in the future?
I'm trying to write a book about the various eras in American history from the settling of the Western frontier to the modern day, whatever the modern day turns out to be when I begin my last nonfiction book. The next project jumps back from the 1970s to 1914-1924, when the Era of Inventions propelled America forward from the horse-and-wagon/candlelight times.

What is on your to be read pile right now?
Since I write serious nonfiction and have to read a lot of other nonfiction as part of my research, I like to react with top-level mystery novels. Right now I'm re-reading some of Michael Connelly's Harry Bosch mysteries. He's a fine storyteller and I'm enjoying the books immensely.
What was your favorite book as a child?
The Once and Future King by T.H. White. It's still my favorite book.
What current (or recently current) TV show or movie would you recommend and why?
I think The Wire is the best TV miniseries I've ever seen. I know it was initially broadcast years ago, but I never have time to watch much TV; I have to catch up on series my wife recommends when I'm taking a mental health break from researching and writing. I don't think I've gone out to the movies in at least 10 years.