Breathe In, Breathe Out. It's a brand new year after a year that had been a little tougher than others. We're starting anew, the air seems different. But how can we keep that momentum going?
How can we feel inspired this year?
Inspiration can comes in many forms and come at many different times throughout the year.
Today, we're talking about some great inspirational books to help catapult us into this brand new year.
---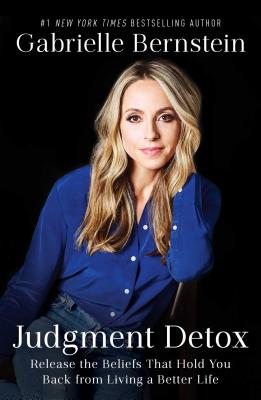 The Judgment Detox
by Gabrielle Bernstein
The Judgment Detox is an interactive six-step process that calls on spiritual principles from the text A Course in Miracles, Kundalini yoga, the Emotional Freedom Technique (aka Tapping), meditation, prayer and metaphysical teachings. I've demystified these principles to make them easy to commit to and apply in your daily life. Each lesson builds upon the next to support true healing. When you commit to following the process and become willing to let go, judgment, pain and suffering will begin to dissolve. And the miracles will keep coming. Once you begin to feel better you start to release your resistance to love. The more you practice these steps, the more love enters into your consciousness and into your energetic vibration. When you're in harmony with love, you receive more of what you want. Your energy attracts its likeness. So when you shift your energy from defensive judgment to free-flowing love your life gets awesome. You'll attract exactly what you need, your relationships will heal, your health will improve and you'll feel safer and more secure. One loving thought at a time creates a miracle. Follow these steps to clear all blocks, spread more love and live a miraculous life.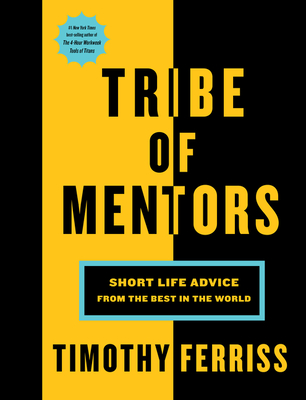 Tribe of Mentors: Short Life Advice from the Best in the World
by Timothy Ferriss
From the author: 
In 2017, several of my close friends died in rapid succession. It was a very hard year, as it was for many people. It was also a stark reminder that time is our scarcest, non-renewable resource.
With a renewed sense of urgency, I began asking myself many questions:
Were my goals my own, or simply what I thought I should want?
How much of life had I missed from underplanning or overplanning?
How could I be kinder to myself?
How could I better say "no" to the trivial many to better say "yes" to the critical few?
How could I best reassess my priorities and my purpose in this world?
To find answers, I reached out to the most impressive world-class performers in the world, ranging from wunderkinds in their 20s to icons in their 70s and 80s. No stone was left unturned. This book contains their answers–practical and tactical advice from mentors who have found solutions. Whether you want to 10x your results, get unstuck, or reinvent yourself, someone else has traveled a similar path and taken notes. This book, Tribe of Mentors, includes many of the people I grew up viewing as idols or demi-gods. Less than 10% have been on my podcast (The Tim Ferriss Show), making this a brand-new playbook of playbooks. No matter your challenge or opportunity, something in these pages can help.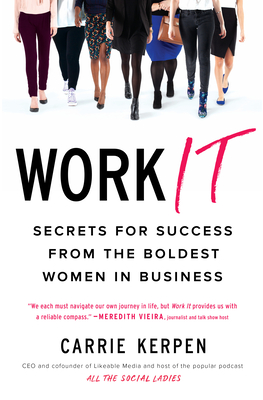 Work It: Secrets for Success from the Boldest Women in Business
by Carrie Kerpen
In Work It, CEO of Likeable Media and popular podcast host Carrie Kerpen shares lessons from her career and an "advisory board" of powerful women in a wide range of industries to help women everywhere make their aspirations a reality. Packed with actionable tips and stories from the likes of Sheryl Sandberg, Aliza Licht, and Reshma Saujani.
With advice on everything from mastering social media to navigating office politics and the seemingly impossible work/life balance, Work It arms every woman with the courage and skills to achieve success and happiness on her terms.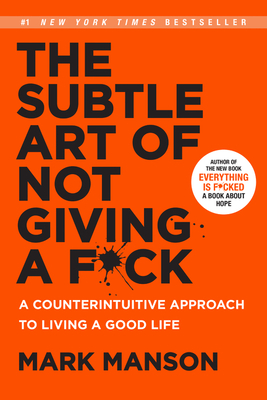 The Subtle Art of Not Giving A F***: A Counterintuitive Approach to Living a Good Life
by Mark Manson
 In his wildly popular Internet blog, Manson doesn't sugarcoat or equivocate. He tells it like it is–a dose of raw, refreshing, honest truth that is sorely lacking today. The Subtle Art of Not Giving a F**k is his antidote to the coddling, let's-all-feel-good mindset that has infected modern society and spoiled a generation, rewarding them with gold medals just for showing up.
Manson makes the argument, backed both by academic research and well-timed poop jokes, that improving our lives hinges not on our ability to turn lemons into lemonade, but on learning to stomach lemons better. Human beings are flawed and limited–"not everybody can be extraordinary, there are winners and losers in society, and some of it is not fair or your fault." Manson advises us to get to know our limitations and accept them. Once we embrace our fears, faults, and uncertainties, once we stop running and avoiding and start confronting painful truths, we can begin to find the courage, perseverance, honesty, responsibility, curiosity, and forgiveness we seek.
---
Whatever it is you are looking to do, to improve on, to start –
feel inspired and get to it!
Make it happen in 2018!