Summer will be here before we know it (let's face it…it already kind of is). In between spending time a the beach and fun summer activities you may want to settle in on a hot night, crank the A/C and have a game night! There are plenty of games to choose from with a variety of different styles depending on what kind of game you like. Did you know there's actually a whole slew of literary games out there? Not only are these really fun but maybe you might learn something too. This is a selection of some of the literary style games we carry here at Vroman's! Next time you're around come check out our games and puzzles section which is upstairs next to the Children's Department!
---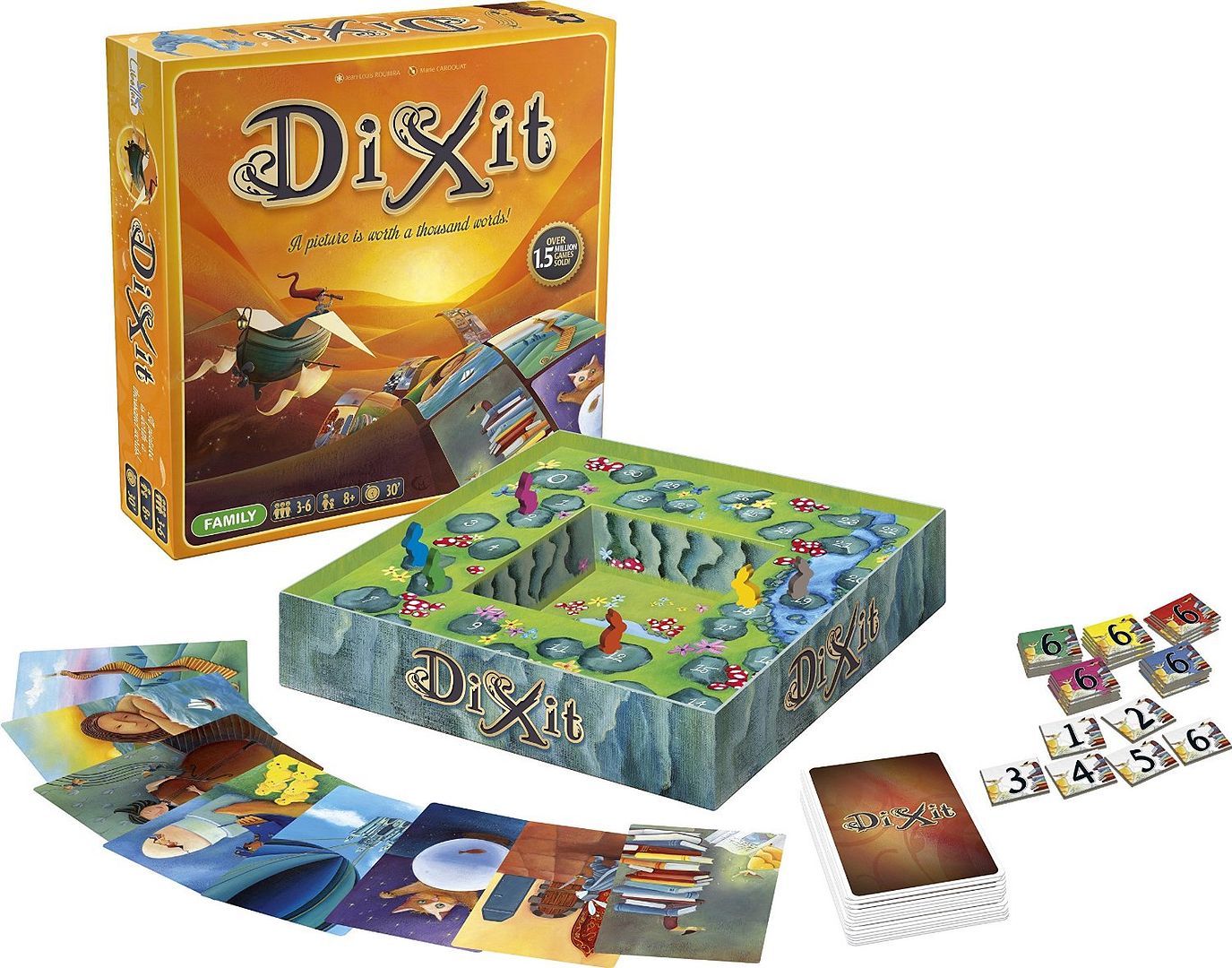 Dixit
Perfect for 3-6 players. Ages 8+
Dixit is a great game that is perfect for adults, kids, friends, family and anyone that loves a good story! The point of this card game is to create a story from your chosen card. One player chooses a card from their hand and starts off with a word, a phrase or a sentence that is represented by the picture. The other players then play a card that best represents what was said. The cards are revealed and every player votes for the best picture. You gain points for correct guesses, cleverness and good stories. The cards all have beautiful artwork on them and the possibilities are endless with each player having a different story to tell!
---
Bards Dispense Profanity
Adult Players Only

Leave this one for the adults! Think of this as a Shakespearean version of Cards Against Humanity. You can keep it clean or you can choose the profanity route. Either way you are guaranteed a good time! There are 100 mock-serious questions for our time and 375 answers copies word-for-word from the works of William Shakespeare. Each answer card cites the play, act, and scene (in case your friends don't believe these actually came from Shakespeare!)
---
Punderdome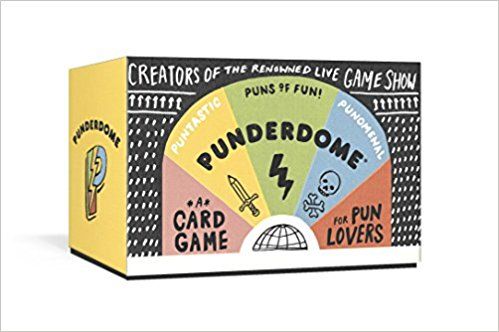 Perfect for Ages 8+
Make bad puns like it's your job and you'll be the winner of this hilarious card game! Punderdome, the card game, was inspired by the original live game show The Punderdome, a cult favorite in Brooklyn. One part game, one part conversation starter, you don't need to be a pun master to master Punderdome!
---
Bring Your Own Book 
Perfect for ages 12+
This rousing party game is great for a good laugh! Remember your old favorite book? It's been turned into your favorite new game! For this game you'll draw a category card, grab a book, and then quickly skim to satisfy the chosen prompt. Draw a category card, grab a book, and then quickly skim to satisfy the chosen prompt (and the judge!) with the most entertaining phrase. Can you find "a ridiculous tabloid headline" in that best-selling novel? How about "dating advice" in your well-worn cookbook? Since you can use any book, you can play with any group and find limitless potential on every page! 

---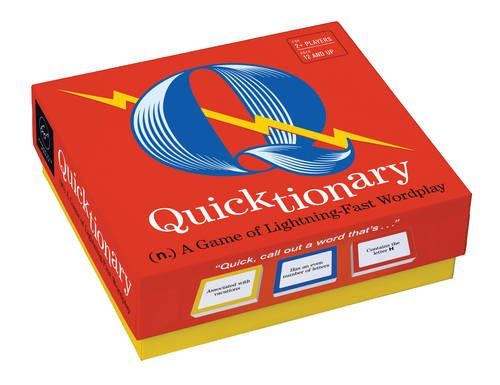 Quicktionary
Perfect for ages 12+
Quicktionary is a fast-paced but laid back for anyone who loves to think on their feet! It's a free-for-all game that's won by thinking fast and being the first person to shout out a word or phrase that meets the criteria on three cards!
---
A few Just for the Kids: 

Super Genius
For Ages 7+

These matching games focus on building different skills from addition and multiplication to reading, teaching beginners the early fundamentals of different subjects, while building skills for more advanced students. Developed hand-in-hand with learning professionals, this Super Genius game was specifically created with early learners in mind. So have some fun with your kids while learning new things!
Story Cubes
All Ages
Story Cubes are pocket-sized story generators that can be taken anywhere (think about your upcoming summer trips – these would be great for a long car or plane trip!). With Story Cubes anyone can become a great storyteller and there are no wrong answers. All you have to do is roll the cubes and let the pictures get your imagination going. These cubes are able to be played with a solo set or combining a few different sets to really take it to the next story level.
---
This is just a small sampling of the games and puzzles we have here at the store.
What are some of your favorite games to play?