Hello!  While we're wrapping up October with some great events, I thought I'd remind you about some November event highlights, too.  Fall is a ridiculously busy time for author events, and sometimes you can't pick just one, so pick a few!
For a full list of events, please visit our event calendar.
If you can't attend an event, but would like to request a signed copy of a book, please call (626)449-5320 and we will try our best to have one signed for you! All events are held at Vroman's Bookstore unless otherwise noted.

Monday, October 28, 6:30pm
Octavia Spencer discusses & signs
The Case of the Time-Capsule Bandit (Randi Rhodes, Ninja Detective)
Deer Creek is a small town whose only hope for survival is the success of their Founder's Day Festival. But the festival's main attraction, a time capsule that many people believe hold the town's treasure, has gone missing.  Randi Rhodes and her best friend, D.C., are Bruce Lee–inspired ninjas and local detectives determined to solve the case. Even if it means investigating in a haunted cabin and facing mean old Angus McCarthy, prime suspect. They have three days to find the treasure…the future of their whole town is at stake! Will these kids be able to save the day? (Simon & Schuster)
Note: Ms. Spencer will only be signing copies of Randi Rhodes: Ninja Detective.  She will not be signing any memorabilia.

Tuesday, October 29, 7pm
Terry McMillan discusses & signs Who Asked You?
Kaleidoscopic, fast-paced, and filled with McMillan's inimitable humor, Who Asked You? opens as Trinetta leaves her two young sons with her mother, Betty Jean, and promptly disappears. BJ, a trademark McMillan heroine, already has her hands full dealing with her other adult children, two opinionated sisters, an ill husband, and her own postponed dreams—all while holding down a job delivering room service at a hotel. Her son Dexter is about to be paroled from prison; Quentin, the family success, can't be bothered to lend a hand; and taking care of two lively grandsons is the last thing BJ thinks she needs.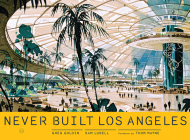 Wednesday, October 30, 7pm
Greg Goldin & Sam Lubell discuss & sign
Never Built Los Angeles
Never Built Los Angeles explores the "what if" Los Angeles, investigating the values and untapped potential of a city still in search of itself. A treasure trove of buildings, master plans, parks, follies, and mass-transit proposals that only saw the drawing board, the book asks: why is Los Angeles a mecca for great architects, yet so lacking in urban innovation? Includes text and more than 400 color and black-and-white illustrations drawn from archives around the U.S., authors Sam Lubell and Greg Goldin explore the visceral (and sometimes misleading) power of architectural ideas conveyed through sketches, renderings, blueprints, models and the now waning art of hand drawing. Many of these schemes–promoting a denser, more vibrant city–are still relevant today and could inspire future designs.
(Metropolis Books)

Thursday, October 31, 7pm
Mark Helprin discusses & signs In Sunlight and in Shadow
In the summer of 1946, New York City pulses with energy. Harry Copeland, a World War II veteran, has returned home to run the family business. His life is upended by a single encounter with the young singer and heiress Catherine Thomas Hale, as each falls for the other in an instant. They pursue one another in a romance played out in Broadway theaters, Long Island mansions, the offices of financiers, and the haunts of gangsters. Catherine's choice of Harry over her longtime fiancé endangers Harry's livelihood and threatens his life. In the end, Harry must summon the strength of his wartime experience to fight for Catherine, and risk everything.

Monday, November 4, 7pm
at the All Saints Church Sanctuary
Vroman's Bookstore presents Anne Lamott discussing & signing Stitches: A Handbook on Meaning, Hope and Repair
What do we do when life lurches out of balance? How can we reconnect to one another and to what is sustaining, when evil and catastrophe seem inescapable?  These questions lie at the heart of Stitches, Lamott's profound follow-up to her New York Times–bestselling Help, Thanks, Wow. In this book Lamott explores how we find meaning and peace in these loud and frantic times.
* This is a ticketed event— please visit the event page for ticketing information.

Tuesday, November 5, 11:30am
Susan Branch discusses & signs
A Fine Romance: Falling in Love with the English Countryside
Susan Branch offers a hand-painted love story about her voyage on the Queen Mary II and two months in England, touring the countryside and sharing stories, recipes, and travel tips. Each page is a piece of art — filled with paintings, pictures, and her handwritten and unique thoughts about everything from pubs to Beatrix Potter's Hill Top Farm.
* Please visit the event page for complete event information.

Tuesday, November 5, 6pm
Jeff Kinney discusses & signs
Diary of a Wimpy Kid: Hard Luck
Please join us for a celebration of the biggest book of 2013— Diary of a Wimpy Kid book 8: Hard Luck! It will be released on November 5, 2013, and we are thrilled to announce that Jeff Kinney will be at Vroman's to sign books on the same day at 6pm.  Please join us to meet Jeff and for special Hard Luck activities which will start 1 hour before the book signing and run throughout it.
* This is a ticketed event— please visit the event page for ticketing information.

Tuesday, November 5, 7pm
at the South Pasadena Public Library
Vroman's Bookstore and the South Pasadena Library present Nikki Giovanni discussing & signing Chasing Utopia
The poetry of Nikki Giovanni has spurred movements and inspired songs, turned hearts and informed generations. She has been hailed as a healer and a national treasure. But if her reputation is writ large upon the national stage, her heart resides in the everyday where family and lovers gather, friends commune, and those no longer with us are remembered.  Chasing Utopia affirms once again why Nikki Giovanni is as relevant as ever.
*This is a ticketed event— please visit the event page ticketing information.

Wednesday, November 6, 7pm
Rebecca Eaton discusses & signs
Making Masterpiece: 25 Years Behind the Scenes at Masterpiece Theatre and Mystery! on PBS
For more than 25 years and counting, Rebecca Eaton has presided over PBS's Masterpiece Theatre, the longest running weekly prime time drama series in American history. She reveals what went on behind the scenes during such triumphs as Cranford as well as her aggressive campaign to attract younger viewers via social media and online streaming.  Readers will also get to know Eaton on a personal level. With a childhood steeped in theater, Eaton was practically born to lead the Masterpiece and Mystery! franchises.

Friday, November 8, 7pm
Tim Conway discusses & signs
What's So Funny?: My Hilarious Life
What's So Funny? is the straight-shooting and hilarious memoir from this six-time Emmy Award-winning funnyman. For the first time, we can read the story of one of the very few entertainers who have captured as many hearts and made as many people laugh as Tim Conway. 

Saturday, November 9, noon-3pm
Fall Scavenger Hunt— Holiday Food Drive Kick Off!
Do you have a particular love of all things autumnal AND enjoy helping people? Help us kick off our Holiday Food Drive! This scavenger hunt will take you all over the fair city of Pasadena, finding a list of things related to Thanksgiving and our fall holiday season. Take pictures of most items for points, extra points for those items you actually bring with you to the judging, and even more points for those who bring the canned goods and other food items on the hunt list for donation to our Annual Food Drive.  Teams should consist of 4 – 5 people and that count does not have to include your driver.
*Sign up online here, or give Vroman's Will Call department a call at
(626) 449-5320!

Monday, November 11, 7pm
Diane Setterfield discusses & signs
Bellman and Black: A Ghost Story
Caught up in a moment of boyhood competition, William Bellman recklessly aims his slingshot at a rook resting on a branch, killing the bird instantly. It is a small but cruel act, and is soon forgotten. Years later, when a stranger mysteriously enters William's life, his fortunes begin to turn—and the terrible and unforeseen consequences of his past indiscretion take root. In a desperate bid to save the only precious thing he has left, he enters into a rather strange bargain, with an even stranger partner. Together, they found a decidedly macabre business.

Friday, November 15, 7pm
at the All Saints Church Forum
Alexander McCall Smith discusses & signs
The Minor Adjustment Beauty Salon
With genuine warmth, sympathy, and wit, Alexander McCall Smith explores tough questions about married life, parenthood, grief, and the importance of the traditions that shape and guide our lives.  The opening of Precious Ramotswe's new salon has been shadowed by misfortune. Not only has she received a bad omen in the mail, but rumors are swirling that the salon is using dangerous products that burn people's skin. Could someone be trying to put the salon out of business?
*This is a ticketed event— please visit the event page for ticketing information.

Saturday, November 16, 4pm
Mark Halperin & John Heilemann discuss & sign
Double Down: Game Change 2012
John Heilemann and Mark Halperin set the national conversation on fire with their bestselling account of the 2008 presidential election, Game Change. In Double Down, they apply their unparalleled access and storytelling savvy to the 2012 election, rendering an equally compelling narrative about the circuslike Republican nomination fight, the rise and fall of Mitt Romney, and the trials, tribulations, and Election Day triumph of Barack Obama.

Wednesday, November 20, 6:30pm
David Shannon presents & signs Bugs in My Hair
Nobody talks about them, but they are everywhere. Oh the shame and humiliation of having bugs in your hair! But if you go to school, or have play dates, chances are good you might meet them someday.  This book is guaranteed to make you laugh–and itch! From the opening picture of a happy, oversized louse appearing with his suitcases, you know these bugs are determined to stay, and Mom is about to go nuts!
I hope you'll come visit us and stay  for an event!  If you have any questions, please call (626)449-5320.