We have a wonderful debut novel in stock here at Vroman's that just so happens to be written by a wonderful indie author (who also just so happens to be a real stand-up guy!) The book is called Mexican Eskimo and the author is Anker Frankoni.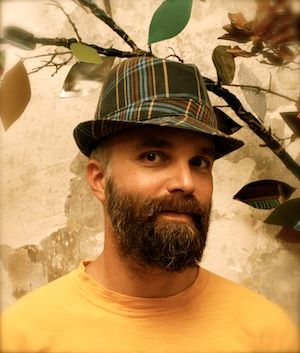 Anker Frankoni  is part joker, part thief, part joyful, part grief. Anker Frankoni strives above all to be a Defender of the Right and Pursuer of Lofty Undertakings. His Twitter account offers occasional threads of 3:00 AM Haiku, and other sporadic letter-cobbled strips of electronically encapsulated musings. Anker calls his work 'fiction with a mission'.
Mexican Eskimo is a story for grown-ups: a love story about finding trust and hope amidst generations of anger and neglect, suicide and substance abuse.
A faithful documentation of a most unlikely existence, Mexican Eskimo is an intricate layer-cake of actual and imagined pieces of dimly remembered facts, generously frosted with sweet, sticky gobs of gospel-truth fantasies.
The story is peppered with international flavor, vibrant characters, multi-cultural themes, and lush settings. It is rife with magical realism, and also features a large cast of young protagonists struggling with identity conflicts and independence, described in a range of historical periods from the 1850's, 1930's, the present day, and even in worlds that existed so long before now that time itself had not yet started to be counted in years.
If Frankoni's writing corresponds to your idea of good storytelling, and his ideals resonate with yours, share your own tip with like-minded friends to help spread reader awareness for this promising new writer's work and cause: 10% of his income from book sales and royalties goes to non-profit organizations working to help stop child-abuse, which resulted in $650 in charitable donations in just the first nine months from release last year.
To help spread reader-awareness in Southern California, the author is offering this special deal to Vroman's customers through the end of February: Buy a first-edition copy of "Mexican Eskimo Book 1: Exmikan" then email Anker@MexicanEskimo.com with a link to any post in which you share a review, picture, Tweet, Facebook post, etc., of or about his book, and Mr. Frankoni will email you a download code for the 9-Hour unabridged audiobook version of the novel from Audible absolutely free!
Albuquerque's Weekly Alibi wrote a nice writeup that you can read here.  You can read another review from the Editor in Chief of San Francisco State University's literaly journal 14 hills here!
Sounds like a good deal, right?
We think so! Stop by to grab a copy of Mexican Eskimo or give us a call at 626.449.5320.
If you'd like to learn more about Anker and his writing please visit him on any of these social platforms.