On Saturday, April 29th, Vroman's and indie bookstores all over the country will be celebrating Independent Bookstore Day! Indie Bookstore Day is like Record Store Day. Indies celebrate who they are to their communities with parties, exclusive items that are only available that day, guest author appearances and more.
To help us celebrate this year we will have a special launch party with author Liza Palmer! She'll be presenting her newest book, the F Word. Liza Palmer is the internationally bestselling author of Conversations with the Fat Girl and six other novels. An Emmy-nominated writer, she lives in Los Angeles and works for BuzzFeed. In anticpation for her event next week, we asked her a few questions about Pasadena, writing and why indies are so important. Enjoy!
---
We are so excited to have you as our guest to launch your new book, the F Word and help up celebrate Indie Bookstore Day! Why are indie bookstores important and why is a having a special day like Indie Bookstore Day important?
For me, Indie bookstores are the center of their communities in this orchestra of ways.  It's where I go to escape, to connect, to be informed, to dream, to feel like I belong and when I need a moment to myself. So, a day that celebrates Indie Bookstores feels like an opportunity for all of us who have received so much to give back to the places that have given us such unconditional sanctuary. 
You are a Pasadena native. What do you love most about this city? Do you have any favorite spots in town (restaurants, museums, parks etc.) that you frequent?
I love Pasadena so much. I love the people. I love the camphor trees that line the streets.  I love my wonderful public school education from Hamilton, Eliot and John Muir High School and playing in Tournament Park behind Cal Tech. I love the beautiful Craftsman houses and meandering around Huntington Gardens, hiking to the waterfall at Eaton Canyon and gazing at Degas', Little Dancer at the Norton Simon. I loved running my fingers through the fountain in the middle of Ernie Jr's that used to be in Old Town (#rip), the lemon bars from Happy Trails, JVC Vegetarian Green burritos from Burrito Express, the cornbread at Smitty's, the cornflake muffins at Fox's in Altadena, grabbing a pint at Lucky Baldwin's and grabbing a great Cobb Salad to go from Julienne's.  
Vroman's has been a big part of your writing journey. Can you talk a little bit about that?
Back when Linda Urban used to work at Vroman's, she started these Saturday morning writing workshops that I went to with my aunt.  Linda would bring in all these amazing writers and they would talk about writing and writing with a full time job (with David Ebershoff) and on and on.  After too long away from writing, those workshops brought me back to life.  Got me dreaming again.  Hoping again.  Writing again.  I wrote my debut novel, Conversations with the Fat Girl, that summer. Without Vroman's, I simply would not have started writing again.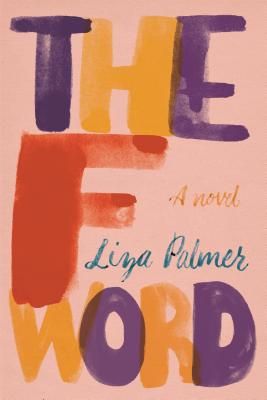 The F Word is your seventh book. How has your writing process changed over the years and what are a few things you've learned along the way?
First and foremost, each book – and the writing of it – is annoyingly singular.  By the time I've found the rhythm of a book, feel solid in revising it and know my way around its landscape – I finish it.  And then… the blank page once again.  Start back at one.  And those characters, and those themes and that setting… are all new. Which is, of course, wonderful…. and horrifying.  Wonderfying. 
What I do know is that I can do it.  I can finish.  I've done it before, so I can do it again.  And sometimes, when I'm drowning in the middle, that knowledge is the life raft I'll cling to during the darkest of days.  I can finish.  I have finished.  This is temporary.  Like Annie LaMott says, bird by bird. 
Is there anything specific you look towards for inspiration in writing or in life in general?
Books have a way of knowing what they're about before I do – theme-wise, at least.  I don't know how, but it's always about halfway through where I'm like… oh… so, this is about THAT??? 
Of the more nuts and bolts – I'm always observing and listening.  Little snippets of dialogue, settings and making sure my life isn't as curated as its been in the past.  An uncurated life begets far more inspiration.  

What do you have to have when you sit down to write? 
Cup of tea (David's Tea loose leaf Earl Grey) and my music score playlist that is my life's work.  It's glorious.
Are you a Pantser or a Planner?
I wrote one book – Conversations with the Fat Girl – as a pantser. And then I promptly hit a wall when I tried to do it on my second book, Seeing Me Naked. It was… ugly.  So, ever since then I am now a Planner like no other Planner.  I realized that the more I planned, the fewer drafts there were.  Because it was in the planning that I found all the plot holes and brick walls that I usually would have hit while Pantsing it. Have you seen JK Rowling's outline?  I use that.  It's a godsend.
What is on your To Be Read pile right now?
So. Much. Right now, I am in the middle of reading all of Game of Thrones before the final season. I'm on Book 3.  I'm also reading Sapiens.  It's amazing.  Next up, A Gentleman in Moscow. I can only think that far – there are so many.  It's invigorating and terrifying.