We've got a great Mystery section here with a lot of mystery fans on staff.
We even have a Mystery Newsletter (Scene of the Crime)! There's a lot of mystery out there to read so if you're looking for something new to pick up check out a few picks below!
Blood Memory
by Margaret Coel
If you read Girl With Braided Hair I'm sure you liked it, and that makes Blood Memory a must! This mystery is a stand-alone from Ms. Coel's usual series of tales but she hasn't deserted the Native American theme. Catherine McLeod is an investigative reporter. She's working hard on a story about the Arapaho and Cheyenne tribes filing to reclaim twenty-seven million acres of their ancestral land. The elders agreed to speak with her because they consider her one of them. Is her pursuit of this story because she's bent on the truth getting out so the public is aware or does the betrayal at Sand Creek touch something in the Arapaho blood that runs through her veins? And why is someone trying to kill her? Can it be the story — or is it the serial rapist they are trying to catch? The motive will surprise you and the documents and tales form long ago will touch your heart. The will also make you think!
Recommended by Lee Kelley
The Moonstone 

by Wilkie Collins, Carolyn G. Heilbrun
"Considered the 1st – & by many the best – detective novel ever written, this book debuted originally in serialized form in 1868. I mention this because it should not be thought of as historical fiction: its depiction of the crime & its resolution are not quaint but contemporary. The myriad scientific advantages that present day crime solvers (both real & fictional) have were not even dreamed of when this was written. & that just makes this book even more enjoyable. The crime & its unraveling are told by many voices over a year's time, & proves, among other things, that great mysteries do not have to a) have bodies strewn all over the place; b) have a detective in constant peril of being beaten to a pulp – or worse – and c) do not need to be solved overnight. A delight from beginning to end."
Recommended by Jan
The Killer Inside Me 
by Jim Thompson
The hokey and harmless-seeming police officer in 1950s West Texas likes to say 'golly' and 'gee whiz' in between slapping women around and staging sudden and brutal murders. Few in his small town want to confront the possibility that this gentleman-officer is capable of any sort of violence. As our narrator/serial killer states plainly the whys and wherefores of his extracurricular activities, his tone stays chummy and light. It's pretty unsettling how wholesome and clean a psychopath can be.
Creepy! Fun!
Recommended by Jeeyeon
Dog on It: A Chet and Bernie Mystery 
by Spencer Quinn
Chet is a dog anyone could love — well as long as you stayed on his good side anyway. Bernie is a P.I. and Chet is his partner. Chet was training to become a police dog; he was the best jumper in his class. Unfortunately that was also his downfall. But no matter, now he's with Bernie and the two of them make a great investigative pair. The really fun part of this mystery is that Chet narrates the story – dog fashion! If he remembers a smell that may be a clue but can't seem to get Bernie to pay attention, well he just may get distracted a bit too and go on to something else. Like wondering why cats catch birds. After all, he never has. Well, cats are just strange anyway.
This book is a delight, and I'm keeping my eye out for more.
Recommended by Lee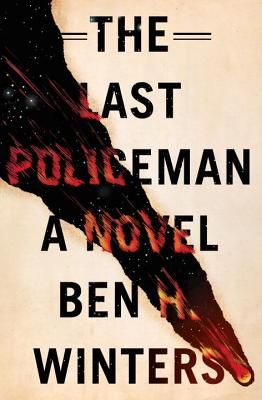 The Last Policeman
by Ben H. Winters
Recently-minted police detective Henry Palace is called to the scene to declare a death a suicide by hanging… but something seems off to Hank and he's thinking he may be looking at a murder. But who would want to murder a mild-mannered actuary? As he starts investigating, Hank becomes more and more frustrated: not only can he not convince anyone that it's not a suicide, he can't get anyone to care. That's because there's an asteroid headed towards earth, dooming all life on the planet when it hits in 6 months' time. This darkly funny novel raises some surprisingly serious questions about the value of human life and what it means to be part of a community.
Recommended by Anne
Read on friends! See you next Monday with more recommendations!