by Erika M. Martínez
My nephews turned eight years old this month. When I spoke to my sister she told me that instead of having a party they would go shopping for new bicycles. It's still hard to believe that they are in second grade, that they love to sing in the children's choir at church and dance to the music on my sister's exercise video while she works out. Eight years ago they were content in a tight swaddle with a warm bottle of soy formula.
Their birthday reminds me how long I have been working on the anthology Daring to Write: Contemporary Narratives by Dominican Women. When my sister was pregnant with the twins I went to the Dominican Book Fair in New York to meet other Dominican women writers I hoped to include in the collection. A few months later, I took another combined trip: I attended AWP in New York, hoping to pitch my anthology idea to small publishers and University presses, then I went to my sister's baby shower. After my sister gave birth, I began working on the book proposal and was able to submit it to the first interested publisher before going to New York again. This third trip was to help my sister with her newborns for six weeks. In between feedings and diaper changes one afternoon, I had my first phone conversation with the Editorial Director who had received the book proposal a few weeks earlier. I was nervous and jittery but made it through the conversation. When I hung up the phone I was hopeful even though the Director wanted me to change my vision for the book.
In August of 2008 I left for Santo Domingo on a Fulbright grant to edit the anthology. I thought I would take a year or two to get the book done. My friends had edited an anthology in less than a year. Why couldn't I? Well, they'd been approached by a publisher and were offered a contract right away. They had a production schedule with real deadlines. I'd started my process right before the market crashed in the fall of 2008, which made many publishers stop signing contracts for books that were not complete, including that first publisher who had asked me to submit a book proposal.
Many of my writing friends wondered why I was looking for a publisher when I hadn't finished putting together a manuscript. My response was simple: I wanted guidance as I went through the process and I wanted to "save" time. Thinking my book would not come out until a year or two after signing a contract made me cringe.
My family and non-writer friends used to ask about the book constantly until I finally told everyone not to bring up the subject, that I would share good news with them when I had some. Even then, one of my cousins still asked, and I'd be forced to talk about the latest disappointment. When I returned to New York on one of my first trips back from Santo Domingo I went to a bar for drinks with my sister and some of her colleagues. They asked about the book, and I told them how stuck I was. "I've got a second masters now and what do you have?" my sister said.
In the time I'd been away my sister had gotten a Masters in Education Administration to go along with her Masters in Teaching English as a Second Language. How she did that while teaching high school full time with infant twins was beyond me. I was struggling with getting my contributors to revise and receiving rejection letters that would send me down spiral chutes of despair for days. I was hurt by my sister's comment. For consolation I told myself that she didn't know about writing or the publishing process.
I was learning about all of it myself, with every new query letter, with every new draft of the book proposal. I sought out help. I went to various anthology readings. I heard how it took three editors seven years to get their book published. I read introductions where editors avoided mentioning how many years it took them to finish their books. I helped other editors who were at earlier stages of their process. Then in 2013 I had a publisher say yes. I was undergoing contract negotiations, and the book was slated for release that fall. Unfortunately, after five months of back and forth, the small nonprofit press and I couldn't compromise on international/foreign language rights. I walked away from the contract.
Many friends had suggested I take breaks throughout this process, but I'd avoided doing so because I didn't want to delay publication. I tried to take a break in the spring of 2013 because at the same time that negotiation tensions were rising, my eighteen-year-old cat was dying, and I was having my third miscarriage in six months. I took three months off from working on the anthology. In September of that year I sent out my next query. The publisher asked me to submit the manuscript and said they would get back to me in about nine months. I continued to look for other publishers.
When the twins turned six they went to a steakhouse to celebrate. They told me about how they got to ride the rodeo bull after they ate their macaroni and cheese. I was up to query letter number thirty-two. Throughout that year I had been looking for meaning in the loss of three important things in my life. I was beginning to understand that I couldn't rush. Yes, twenty-four contributors were likely wondering when and if this anthology would ever get published. The writers included in this collection had experienced their own ups and downs as well; they had published new work and begun new projects. They'd ended long-term relationships and some had begun new lifetime partnerships. They'd given birth to new life and had lost loved ones. They had fought for their lives. And I was still looking for a publisher.
Around that time a friend shared a quote with me, highlighting a line she found inspiring: "Most of the time the only difference between a dream that came true and one that didn't, is a person who wouldn't give up and one who did." I realized each rejection was devastating because I thought it meant the book wouldn't get published. Some part of my mind thought that because one editor said no, all of them would. And I'd involved many people in this project; dozens of friends and strangers had stepped up to help me. There had been too many points of no turning back; I couldn't even count them. To me, there was no way I could let the project go.
Another year went by. The twins had just turned seven when I was offered a third contract, the one I finally signed. The University of Georgia Press was the publisher I had been waiting for. They were patient with me, knowing I was 9 months pregnant when the manuscript was due. Luckily, I turned in the anthology two days before I went into labor. As I went through production, I felt the support I'd been seeking since I began the project in 2008.
We finally get to share the wonderful stories in this collection with the audience. On April 1, 2016 four contributors will join me at Vroman's Bookstore in Pasadena to read from their work: Angie Cruz, Yalitza Ferreras, Juleyka Lantigua-Willimas and Jasmine Jina Ortiz. These authors have given voice to Dominican women seeking economic opportunity for themselves and for their families. Their stories will help readers reflect on love, gender, identity and migration. My nephews won't be at the reading, but my daughter will.
---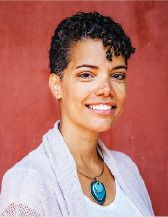 Erika M. Martínez was born in New Jersey to Dominican parents and lived many of her childhood years in Santo Domingo. She is the editor of the anthology, Daring to Write: Contemporary Narratives by Dominican Women. Recipient of a Fulbright Fellowship and a Hedgebrook Writing Residency, she holds an MFA in English and Creative Writing from Mills College in Oakland, CA where she currently resides. Her writing was adapted for the stage and has been featured in the anthologies, Wise Latinas: Writers on Higher Education; Homelands: Women's Journeys Across Race, Place and Time andSecond Sense of Place: The Washington State Geospatial Poetry Anthology. Her work has also recently appeared in Muthamagazine.com, Consequence Magazine, and the Afro-Hispanic Review, among other publications. She has taught creative writing in the Dominican Republic and works with the National Writing Project in New Hampshire. (www.erikammartinez.com)