October is a great month for so many different things! We've got some great events on the calendar and we want to make sure you don't miss out on them!
Friday, October 13, 7PM
at the Pasadena Hilton (International Ballroom)
Vroman's Bookstore presents JOEY GRACEFFA!
The highly anticipated sequel to the instant #1 New York Times bestseller Children of Eden.
Two girls, one destiny.  Yarrow is an elite: rich, regal, destined for greatness. She's the daughter of one of the most powerful women in Eden. At the exclusive Oaks boarding school, she makes life miserable for anyone foolish enough to cross her. Her life is one wild party after another…until she meets a fascinating, lilac-haired girl named Lark.  Meanwhile, there is Rowan, who has been either hiding or running all her life. As an illegal second child in a strictly regulated world, her very existence is a threat to society, punishable by death…or worse. After her father betrayed his family, and after her mother was killed by the government, Rowan discovered a whole city of people like herself. Safe in an underground sanctuary that also protected the last living tree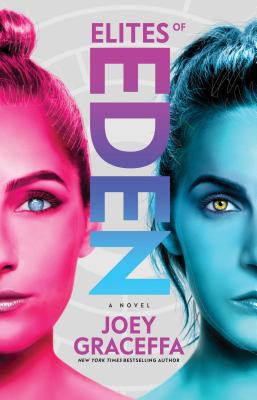 on Earth, Rowan found friendship, and maybe more, in a fearless hero named Lachlan. But when she was captured by the government, her fate was uncertain.  When these two girls discover the thread that binds them together, the collision of memories means that their lives may change drastically–and that Eden may never be the same. (Atria Books)
There are four ticket options:
1) Eden Package, $21.00 (plus tax & fees):
-Admission to Q&A with Joey Graceffa featuring Daniel Preda
-One pre-signed copy of Elites of Eden
-Commemorative tour lanyard
-Exclusive tour-only Elites of Eden poster
2) Eden Package Plus Companion, $26.00 (plus tax & fees): Adds ONE extra seat to the Eden Package for a parent or guardian, over 21 years of age.
3) Elite Package, $42.00 (plus tax & fees):
-Admission, with VIP seating, to Q&A with Joey Graceffa featuring Daniel Preda
-Backstage selfie "photo op" with Joey Graceffa (must bring your own camera)
–TWO pre-signed copies of Elites of Eden (one to keep and one to share!)
-VIP commemorative tour lanyard
-Exclusive tour-only signed Elites of Eden poster
4) Elite Package Plus Companion, $47.00 (plus tax & fees): Adds ONE extra seat to the Elite Package for a parent or guardian, over 21 years of age. Companion will not be admitted to meet & greet photo op.
TICKETS AVAILABLE HERE!
---
Monday, October 16, 7pm
at All Saints Church
Vroman's Bookstore presents Ron Chernow in conversation with Bill Deverell presenting and signing Grant
Pulitzer Prize winner Ron Chernow returns with a sweeping and dramatic portrait of one of our most compelling generals and presidents, Ulysses S. Grant.
Ulysses S. Grant's life has typically been misunderstood. All too often he is caricatured as a chronic loser and an inept businessman, or as the triumphant but brutal Union general of the Civil War. But these stereotypes don't come close to capturing him, as Chernow sows in his masterful biography, the first to provide a complete understanding of the general and president whose fortunes rose and fell with dizzying speed and frequency.
Before the Civil War, Grant was flailing. His business ventures had ended dismally, and despite distinguished service in the Mexican War he ended up resigning from the army in disgrace amid recurring accusations of drunkenness. But in war, Grant began to realize his remarkable potential, soaring through the ranks of the Union army, prevailing at the battle of Shiloh and in the Vicksburg campaign, and ultimately defeating the legendary Confederate general Robert E. Lee. Along the way, Grant endeared himself to President Lincoln and became his most trusted general and the strategic genius of the war effort. Grant's military fame translated into a two-term presidency, but one plagued by corruption scandals involving his closest staff members.
This is a ticketed event and will take place at All Saints Church at 132 N Euclid Ave, Pasadena. Tickets: $41.00 + tax – includes one copy of Grant. Tickets are available at Eventbrite. If there are any questions please call Vroman's at (626) 449-5320 or visit us at www.vromansbookstore.com.
TICKETS AVAILABLE HERE!