Graphic novels are full of diversity in both race and gender. In honor of Black History Month, we wanted to highlight just a few of the authors who have written African-American characters and some that are changing the way common superhero characters appear in graphic novels. There are so many of these incredible authors out there, hopefully this short list helps to motivate you to seek them out.
---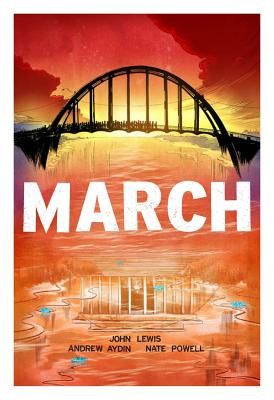 March
by John Lewis and Andrew Aydin, illustrated by Nate Powell
The March trilogy is a graphic novel about the U.S. Civil Rights Movement that is told through the perspective of U.S. Congressman and civil rights leader, John Lewis. March is an award-winning, #1 bestselling graphic novel and was the first graphic novel to receive a Robert F. Kennedy Book Award.
About author John Lewis: John Lewis is often called "one of the most courageous persons the Civil Rights Movement ever produced," John has dedicated his life to protecting human rights and securing civil liberties. As a student at Fisk University, Lewis organized sit-ins at segregated lunch counters in Nashville, Tennessee. He participated in Freedom Rides in 1961 that he risked his life for. He was beaten severely by angry mobs and arrested by police for challenging the injustice of the Jim Crow segregation in the South. He was named Chairman of the Student Nonviolent Coordinator Committee (SNCC) during the height of the movement from 1963 to 1966. Though he may have endured 40 arrests, physical attacks and serious injuries, John Lewis remained a devoted advocate for the philosophy of nonviolence. His career continued in 1977 when he was appointed by President Jimmy Carter to direct more than 250,000 volunteers of ACTION, the federal volunteer agency. In 1981, he was elected to the Atlanta City Council and in 1986 was elected to Congress and has served as U.S. Representative of Georgia's Fifth Congressional District since then.
---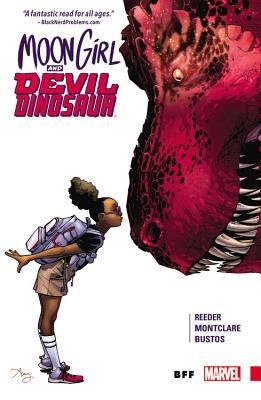 Moon Girl and the Devil Dinosaur
by Amy Reeder, Brandon Montclare (Ages 12-17)
Moon Girl and the Devil Dinosaur is about Lunella Lafayette, a preteen super genius who wants to change the world but learned the hard way that it takes MORE than just big brains! Her sidekick is a red-scaled tyrant who was transported from prehistoric past to the far-flung future we call TODAY. Together, they are the most amazing Marvel team-up.
About author Amy Reeder: Amy Reeder graduated from BYU and got her start in comics by placing in TokyoPop's "Rising Stars of Manga" contest. Her popular graphic novel series, Fool's Gold launched her onto the graphic novel scene. Her books combine her stunning artwork with high school angst and humorous banter.
---
Black Panther
by Ta-Nehisi Coates
A new era is beginning for the Black Panther with this new series by National Book Award-winning author Ta-Nehisi Coates. When a superhuman terrorist group that calls itself The People sparks a violent uprising, the land famed for it's amazing technology and proud warrior traditions will be thrown into turmoil.
About author Ta-Nehisi Coates: Ta-Nehisi is an author, journalist and educator. He is a national correspondent for The Atlantic and writes about cultural, social and political issues particularly regarding African-Americans. He has also worked for The Village Voice, Washington City Paper and Time. His second book, Between the World and Me, was released in 2015 and since has won the National Book Award for Nonfiction. He was also the recipient of the Genius Grant from the John D. and Catherine T. MacArthur Foundation.
---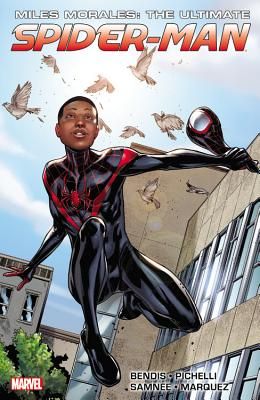 Miles Morales: Ultimate Spider-Man
by Brian Michael Bendies, Illustrated by Sara Pichelli
Before Peter Parker died, young Miles Morales was poised to start the next chapter in his life in a new school. Then, a spider's bite granted the teenager incredible arachnid-like powers. Miles is now thrust into a world he doesn't understand. Can he live up to Peter's legacy as Spider-man?
About author Brian Michael Bendis: Brian Michael Bendis is one of the most successful writers working in mainstream comics today. For Marvel entertainment, Brian is currently writing ALL NEW X-MEN and UNCANNY X-MEN. His introduction of the new multiracial ULTIMATE SPIDER-MAN made frontpage news and has quickly become a comic of interest with the community. Brian has won a slew of awards including five EISNER awards and was honored with the prestigious INKPOT award for comic art excellence. He is definitely someone to look out for!