Can you believe Labor Day is just around the corner and that means summer is nearing a close? 🙁
Don't get too upset though because this also means it's almost fall! My personal favorite time of year and a really busy time in general for books.
We have a ton of great events coming up in September to help kick off the season with a bang! Mark your calendars. We can't wait to see you in the crowd.
Friday, September 5, 7pm
Teddy Steinkellner discusses and signs Trash Can Nights
Jake Schwartz is back at San Paulo Junior High, completely unprepared for his new celebrity status as the-boy-who-survived-a-gang-brawl. Facing unwanted attention from both foes and fanatics, he and three other diverse students must tread the middle school waters of adversity, romance, insecurity, and popularity.  All of this and more is in the remarkable follow-up to the popular Trash Can Days.
Sunday, September 7, 5pm

John Scalzi discusses and signs Lock In
"When a virus blasts the nation, leaving most sufferers only feverish, a handful with acute meningitis, and an unfortunate one percent so completely locked in that they can't speak or even move, scientists come to the rescue with two initiatives. One is a virtual-reality environment, "The Agora," that allows the locked-in to interact with others. The other involves the discovery that a few folks have brains receptive to being controlled by others, allowing the locked-in to hop aboard and use the bodies of these people as their own."- Library Journal
Monday, September 8, 7pm
Priya Rana Kapoor discusses and signs Give Yourself Permission to Live Your Life
In her new book, Priya Rana Kapoor takes you on The Permission Journey™, a step-by-step guide that will equip you with the strength and courage to have newfound self-confidence and live the life you've always dreamed. Told from personal experience, Kapoor explains how she battled her own demons and how you can do the same. The breakthrough techniques outlined in The Permission Journey™ have benefited a wide range of people, from executives of large international corporations, to recent graduates struggling to find their feet. Everyone struggles with self-worth from time to time, and this book lets us know that we're not alone and what we can do to turn things around.
Tuesday, September 9, 7pm
Bill Bradley discusses and signs Los Angeles Union Station: Tracks to the Future
Los Angeles Union Station opened in May of 1939, an unusual time for such a grand station to open considering the more common ways of travel were by car or plane. Thanks to its early inclusion on the National Registry of Historic Places, this iconic Southern California landmark has stood its ground and is now the hub of the country's newest light rail and subway system, serving hundreds of thousands of people each week. Author William Bradley provides us with little-known details about this beloved landmark and couples them with beautifully rendered vintage photographs to help transport readers into one of California's most important stories.
Mike the Poet will open the evening with an introductory poem for Los Angeles Union Station: Tracks to the Future.
Thursday, September 11, 7pm
Alice Simpson discusses and signs Ballroom
Told in interconnecting stories, Ballroom is a beautifully crafted novel about a group of strangers united by a desire to escape their complicated lives, if only for a few hours each week, in a faded New York City dance hall. The glamour of the Ballroom is all but gone, but the small group of loyal patrons struggling to find passion, love, attention, and deferred dreams keep the dance floor alive. After all, it is their only way to mend their tired and unfulfilled lives. The way these varied characters come together are both touching and unexpected in this stunning debut novel.
Friday, September 12, 7pm
Judy Carter discusses & signs The Message of You
In Honor of the upcoming San Gabriel Valley Pride LGBT Festival, Vroman's presents Judy Carter reading and signing The Message of You.
The Message of You begins with a simple belief – that your greatest speech already exists and that it has already been delivered in front of a live audience masterfully and powerfully by you. Best-selling author and international comic Judy Carter sets out to prove that The Message of You is in the advice you give to your friends; in the lessons you teach your children; in the stories you tell your family. It's expressed through the volunteer work you do, the way you run your business, the way you turned your messes into successes.
The Message of You is a distillation of all of your experiences, both personal and professional, that form the narrative meaning of your life. A meaning that you can develop into a well-written, funny speech to inspire audiences, enhance your current profession, and launch a successful money-making career as a professional speaker.
San Gabriel Valley Pride LGBT Festival will be Saturday, September 20th from 11am to 6pm in Pasadena's Memorial Park, Levitt Pavilion and Holly Street. http://sgvpride.org/sgvpride2014/
Sunday, September 14, 4pm
Darrell Miller discusses and signs The 16th Minute of Fame
"In the future, everyone will be world-famous for 15 minutes." This famous Andy Warhol quip has now become possible, in large part, due to the vast audiences of hundreds of channels of scripted television and unscripted reality TV shows. Author Darrell Miller characterizes fame as that defining point in your life or career that has the potential and capacity to actually take you to a higher level of success and to reach your personal or business goals. Throughout his career as an entertainment attorney, the author has observed many high profile people who have achieved their personal dreams. Miller's primary goal is to make people stop and give real consideration to some of these issues in an effort to motivate them to understand that once they have reached a certain level of fame and fortune, it is extremely important to spend quality time developing basic plans and avoiding complacency in order to sustain their success.
Monday, September 15, 7pm
Elizabeth Silver & Erin Lindsay McCabe present and sign The Execution of Noa P. Singleton and I Shall Be Near to You
Noa P. Singleton never spoke a word in her own defense throughout a brief trial that ended with a jury finding her guilty of first-degree murder. Ten years later, she sits on death row in a maximum-security penitentiary, just six months away from her execution date. Meanwhile, Marlene Dixon, a high-powered Philadelphia attorney who is also the mother of the woman Noa was imprisoned for killing, claims to have changed her mind about the death penalty and will do everything in her considerable power to convince the governor to commute Noa's sentence to life in prison. There's just one caveat: Noa must tell her side of the story. Linked by murder but with very different goals, Noa and Marlene wrestle with the sentences life itself can impose while they confront the best and worst of what makes us human.
Inspired by more than 250 documented accounts of the women who fought in the Civil War while disguised as men, I Shall Be Near to You is the gripping story of Rosetta, who refuses to leave her husband's side whatever the cost. Refusing to abide by cultural standards, Rosetta cuts her hair, hems an old pair of pants, and enlists as a Union soldier. The couple must face incredible odds to stay together, including gender conventions, constant danger, and the fear that her secret might become exposed. Above all, this debut novel tells a love story about what can happen when two partners face life's challenges together.
Tuesday, September 16, 7pm
Stuart Rojstaczer discusses and signs The Mathematician's Shiva
Alexander "Sasha" Karnokovitch and his family would like to mourn the passing of his mother, Rachela, with modesty and dignity. But Rachela, a famous Polish émigré mathematician and professor at the University of Wisconsin, is rumored to have solved the million-dollar Navier-Stokes Millennium Prize problem. Rumor also has it that she spitefully took the solution to her grave. To Sasha's dismay, a ragtag group of socially challenged mathematicians arrives in Madison and crashes the shiva, vowing to do whatever it takes to find the solution. Written by a geophysicist, this debut novel tackles not only the human drive, but also human beings' determination to solve the impossible.

Wednesday, September 17, 7pm
Jonathan & Jesse Kellerman discusses and signs The Golem of Hollywood
The legend of the Golem of Prague has endured through the ages, but the creature that has been lying dormant may not be any longer. Detective Jacob Lev wakes one morning, dazed and confused: He knows he met a mysterious and beautiful woman the night before, but can find no trace of her. But this mystery pales in comparison to the one he's about to be called on to solve. Newly reassigned to a Special Projects squad he didn't even know existed, he's sent to a murder scene in the hills of Hollywood. There is no body, only an unidentified head lying on the floor of a house. Seared into a kitchen counter nearby is a single word: the Hebrew for justice. Detective Lev is about to embark on a globetrotting odyssey to solve a mystery that will change him, and the world, forever.
Thursday, September 18, 7pm
Ron Koertge discusses and signs Sex World
This collection of flash fiction will leave you in stitches as you read about a robot who claims that the sound of turbines is his lullaby, or how a fed-up daughter finds a foolproof way to do away with her horrible mother. Fans of the classic Persephone and Demeter story will love Koertge's new take on the tale and you'll also hear about a page from Lois Lane's diary that reveals a surprising secret! Each story is more unique than the last and is told in a way that only Koertge can.
Thursday, September 25, 7pm
James Ellroy discusses and signs Perfidia
In this new novel, James Ellroy writes about Los Angeles in a way that he never has before. It is December 6, 1941, and America stands at the brink of World War II. Last hopes for peace are shattered when Japanese squadrons bomb Pearl Harbor. Los Angeles has been a haven for loyal Japanese-Americans—but now, war fever and race hate grip the city and the Japanese internment begins. The hellish murder of a Japanese family summons several Angelenos – a detective, a war profiteer, the only Japanese-American on the LA cop payroll, and a young woman looking for adventure – who must come together before the investigation rips them apart.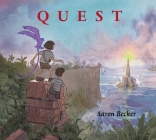 Friday, September 28, 6:30pm
Aaron Becker discusses and signs Quest
In this follow up to the Caldecott Honor Journey, Aaron Becker tells of a king who emerges from a hidden door in a city park, startling two children sheltering from the rain. No sooner does he push a map and some strange objects into their hands than he is captured by hostile forces that whisk him back through the enchanted door. Just like that, the children are caught up in a quest to rescue the king and his kingdom from darkness, while illuminating the farthest reaches of their imagination.
Saturday, September 27, 3pm
Liz Climo discusses and signs The Little World of Liz Climo
Artist Liz Climo has charmed her fans with her comic world of whimsical animal characters, where grizzly bears, dinosaurs, rabbits, and anteaters grapple with everyday life with wit and humor. Through her comics, we discover that an armadillo can dress for Halloween, a dinosaur can be a loving parent … and a rhino can squeeze orange juice! This new collection features more than 100 of her comics, starring her beloved characters in all kinds of funny situations.
Sunday, September 28, 12pm
Local Author Day: Vroman's introduces Benla Bennett and Jerilyn McIntyre
Benla Bennett reads from and signs The Land at the Top of the Stairs
A Note from the Benla Bennett: "These stairs were built by my father in the 1960's to provide us access to the top of our property in order to clear brush. Over the years the question everyone, adults and children alike, asks when he or she walks into my backyard is: "What's at the top of the stairs?" With that question in mind, I decided to write The Land at the Top of the Stairs from a child's point of view. While turning this story into a book I decided it would be fun to let the reader illustrate the story. Children are so very creative. Each book would certainly be an original with the child's illustrations."

Jerilyn McIntyre reads from and signs Paws in the Piazza
"Back home, I was content to be just an ordinary house cat. I didn't get out much. But it's different here in Venice." How different? Harley quickly finds out after his family arrives in Italy. He takes up with a group of local cats who roam wild in the alleys and neighborhoods of Venice, and meets the mysterious Angela, a beautiful white Angora who steals his heart. Then he becomes embroiled in a fierce and ongoing war between his friends and a rival band of cats, and discovers the magical order that underlies life in the enchanting and historic city that is his new home.

Sunday, September 28, 4pm
Local Author Day: Vroman's introduces Dublin Galyean, W. David Smith, & Clyde Derrick
Dublin Galyean discusses and signs Bougainvillea Blues
Bougainvillea Blues is the heartfelt coming of age story of Joey Norton, a twelve-year-old boy. Sex, love, and voyeurism: Joey is trying to figure it all out. When his world collides with the gorgeous Gloria, the boy who likes to watch is forced to participate in his own life for the first time. A smothering mother, neighborhood boys with their own code of sexuality, and a father with secrets that will stun the family and force Joey to make the first grown-up decisions of his life turn up the heat on a story of love and loss see in the breezy, warm air of 1960's San Diego.

W. David Smith discusses and signs Above the Mountain
The poems of Above the Mountain are moments with private people and what they dream when life changes. Five lives open, the last a questioning child who experiences near physical death in the midst of laughing adults, then a manifestation of a death much bigger than his own. The book concludes with the actual demise of a friend in childhood and a glimpse of the humanity behind one person's eyes the life of the vanished friend creates as years pass.

Clyde Derrick discusses and signs The Wash
With bold characters and exquisite prose, The Wash is a compelling addition to California literature. Clyde Derrick masterfully captures a time and place while telling the sprawling multi-generational story of a Western family as seen through the clear and loving eyes of Cluny Taggart, recalling his twelfth year.

Monday, September 29, 7pm
Steph Cha discusses and signs Beware Beware: A Juniper Song Mystery
Working as an apprentice at a P.I. firm, Juniper Song finds herself nose deep in a Hollywood murder scandal. When a young woman named Daphne calls looking for an eye on her boyfriend, Song takes the case. Daphne is an independently wealthy painter living in New York, and her boyfriend Jamie is a freelance screenwriter in Los Angeles, ghostwriting a vanity project for aging movie star Joe Tilley. Song quickly learns that there's more to this case than a simple tail, and her suspicions are confirmed when Tilley winds up dead in a hotel room. Nonetheless, when Jamie becomes the prime suspect in the movie star's murder, she agrees to help the charismatic couple discover the truth, even as the police build their case against Jamie. As Song chases leads, she realizes no one – not even herself – is safe from judgment.