Hardcover: 

Bastards: A Memoir
by Mary Anna King
$25.95
In the early 1980s, Mary Hall is a little girl growing up in poverty in Camden, New Jersey, with her older brother Jacob and parents who, in her words, were great at making babies, but not so great at holding on to them. After her father leaves the family, she is raised among a commune of mothers in a low-income housing complex. Then, no longer able to care for the only daughter she has left at home, Mary's mother sends Mary away to Oklahoma to live with her maternal grandparents, who have also been raising her younger sister, Rebecca. When Mary is legally adopted by her grandparents, the result is a family story like no other. Because Mary was adopted by her grandparents, Mary's mother, Peggy, is legally her sister, while her brother, Jacob, is legally her nephew.
Living in Oklahoma with her maternal grandfather, Mary gets a new name and a new life. But she's haunted by the past: by the baby girls she's sure will come looking for her someday, by the mother she left behind, by the father who left her. Mary is a college student when her sisters start to get back in touch. With each subsequent reunion, her family becomes closer to whole again. Moving, haunting, and at times wickedly funny, Bastards is about finding one's family and oneself.
Mary Anna King will be here with Bastards on July 9th! 

Black Glass
by Karen Joy Fowler
$27.95
An early work from PEN/Faulkner Award winner and Man Booker finalist Karen Joy Fowler, reissued and beautifully repackaged for new fans and old.
First published in 1998 to high praise, and now reissued with the addition of a prefatory essay, "Black Glass "showcases the extraordinary talents of this prizewinning author. In fifteen gemlike tales, Fowler lets her wit and vision roam freely, turning accepted norms inside out and fairy tales upside down pushing us to reconsider our unquestioned verities and proving once again that she is among our most subversive writers.
So, then: Here is Carry Nation loose again, breaking up discos, smashing topless bars, radicalizing women as she preaches clean living to men more intent on babes and booze. And here is Mrs. Gulliver, her patience with her long-voyaging Lemuel worn thin: Money is short and the kids can t even remember what their dad looks like. And what of Tonto, the ever-faithful companion, turning forty without so much as a birthday phone call from that masked man?
It is a book full of great themes and terrific stories but it is the way in which Fowler tells the tale, develops plot and character, plays with time, chance, and reality that makes these pieces so original.

Karen Joy Fowler will be here with Black Glass on July 8th! 

Blackout: Remembering the Things I Drank To Forget
by Sarah Hepola
$26.00
A memoir of unblinking honesty and poignant, laugh-out-loud humor, BLACKOUT is the story of a woman stumbling into a new kind of adventure–the sober life she never wanted. Shining a light into her blackouts, she discovers the person she buried, as well as the confidence, intimacy, and creativity she once believed came only from a bottle. Her tale will resonate with anyone who has been forced to reinvent or struggled in the face of necessary change. It's about giving up the thing you cherish most–but getting yourself back in return.

Book of Strange New Things
by Michel Faber
$28.00
It begins with Peter, a devoted man of faith, as he is called to the mission of a lifetime, one that takes him galaxies away from his wife, Bea. Peter becomes immersed in the mysteries of an astonishing new environment, overseen by an enigmatic corporation known only as USIC. His work introduces him to a seemingly friendly native population struggling with a dangerous illness and hungry for Peter's teachings–his Bible is their "book of strange new things." But Peter is rattled when Bea's letters from home become increasingly desperate: typhoons and earthquakes are devastating whole countries, and governments are crumbling. Bea's faith, once the guiding light of their lives, begins to falter.
Suddenly, a separation measured by an otherworldly distance, and defined both by one newly discovered world and another in a state of collapse, is threatened by an ever-widening gulf that is much less quantifiable. While Peter is reconciling the needs of his congregation with the desires of his strange employer, Bea is struggling for survival. Their trials lay bare a profound meditation on faith, love tested beyond endurance, and our responsibility to those closest to us.

The Cartel
by Don Winslow
$27.95
It's 2004. DEA agent Art Keller has been fighting the war on drugs for thirty years in a blood feud against Adan Barrera, the head of El Federacion, the world's most powerful cartel, and the man who brutally murdered Keller's partner. Finally putting Barrera away cost Keller dearly the woman he loves, the beliefs he cherishes, the life he wants to lead.
Then Barrera gets out, determined to rebuild the empire that Keller shattered. Unwilling to live in a world with Barrera in it, Keller goes on a ten-year odyssey to take him down. His obsession with justice or is it revenge? becomes a ruthless struggle that stretches from the cities, mountains, and deserts of Mexico to Washington's corridors of power to the streets of Berlin and Barcelona.
Keller fights his personal battle against the devastated backdrop of Mexico's drug war, a conflict of unprecedented scale and viciousness, as cartels vie for power and he comes to the final reckoning with Barrera and himself that he always knew must happen.
"The Cartel" is a story of revenge, honor, and sacrifice, as one man tries to face down the devil without losing his soul. It is the story of the war on drugs and the men and women who wage it.

The Festival of Insignificance
by Milan Kundera
$23.99
Casting light on the most serious of problems and at the same time saying not one serious sentence; being fascinated by the reality of the contemporary world and at the same time completely avoiding realism that's The Festival of Insignificance. Readers who know Kundera's earlier books know that the wish to incorporate an element of the "unserious" in a novel is not at all unexpected of him. In Immortality, Goethe and Hemingway stroll through several chapters together, talking and laughing. And in Slowness, Vera, the author's wife, says to her husband, "You've often told me you meant to write a book one day that would have not a single serious word in it . . . I warn you: watch out. Your enemies are lying in wait."
Now, far from watching out, Kundera is finally and fully realizing his old aesthetic dream in this novel, which we may easily view as a summation of his whole work. A strange sort of summation. Strange sort of epilogue. Strange sort of laughter, inspired by our time, which is comical because it has lost all sense of humor. What more can we say? Nothing. Just read.

The Little Paris Bookshop
by Nina George
$25.00
Monsieur Perdu calls himself a literary apothecary. From his floating bookstore in a barge on the Seine, he prescribes novels for the hardships of life. Using his intuitive feel for the exact book a reader needs, Perdu mends broken hearts and souls. The only person he can't seem to heal through literature is himself; he's still haunted by heartbreak after his great love disappeared. She left him with only a letter, which he has never opened. After Perdu is finally tempted to read the letter, he hauls anchor and departs on a mission to the south of France, hoping to make peace with his loss and discover the end of the story. Joined by a bestselling but blocked author and a lovelorn Italian chef, Perdu travels along the country's rivers, dispensing his wisdom and his books, showing that the literary world can take the human soul on a journey to heal itself. Internationally bestselling and filled with warmth and adventure, "The Little Paris Bookshop" is a love letter to books, meant for anyone who believes in the power of stories to shape people's lives.

Truth or Die
by James Patterson
$28.00
The truth will set you free-if it doesn't kill you first.
After a serious professional stumble, attorney Trevor Mann may have finally hit his stride. He's found happiness with his girlfriend Claire Parker, a beautiful, ambitious journalist always on the hunt for a scoop. But when Claire's newest story leads to a violent confrontation, Trevor's newly peaceful life is shattered as he tries to find out why.
Chasing Claire's leads, Trevor unearths evidence of a shocking secret that-if it actually exists-every government and terrorist organization around the world would do anything to possess. Suddenly it's up to Trevor, along with a teenage genius who gives new meaning to the phrase "too smart for his own good," to make sure that secret doesn't fall into the wrong hands. But Trevor is about to discover that good and evil can look a lot alike, and nothing is ever black and white: not even the truth.
Paperback: 

Stone Mattress
by Margaret Atwood
$15.95
In this extraordinary collection, Margaret Atwood gives us nine unforgettable tales that reveal the grotesque, delightfully wicked facets of humanity. Alphinland, the first of three loosely linked tales, introduces us to a fantasy writer who is guided through a stormy winter evening by the voice of her late husband. In Lusus Naturae, a young woman, monstrously transformed by a genetic defect, is mistaken for a vampire. And in the title story, a woman who has killed four husbands discovers an opportunity to exact vengeance on the first man who ever wronged her.
By turns thrilling, funny, and thought-provoking, "Stone Mattress" affirms Atwood as our greatest creator of worlds and as an incisive chronicler of our darkest impulses.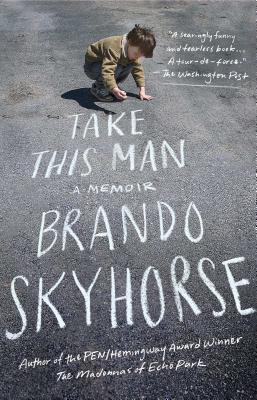 Take This Man
by Brando Skyhorse
$15.99
When he was three years old, Brando Kelly Ulloa was abandoned by his immigrant father. His mother, Maria, dreaming of a more exciting life, saw no reason for her son to live as a Mexican American just because he was born one. With the help of Maria's ruthless imagination and a hastily penned jailhouse correspondence, the life of "Brando Skyhorse," the Native American son of an incarcerated political activist, was about to begin.
Through a series of letters to Paul Skyhorse Johnson, a stranger in prison for armed robbery, Maria reinvents herself and her young son as American Indians in the colorful Mexican-American neighborhood of Echo Park, California, where Brando and his mother live with his acerbic grandmother and a rotating cast of surrogate fathers. It will be thirty years before Brando begins to untangle the truth, when a surprise discovery leads him to his biological father at last.
From this PEN/Hemingway Award-winning novelist comes an extraordinary literary memoir capturing a mother-son story unlike any other and a boy's single-minded search for a father, wherever he can find one.