Vroman's is pleased to announce a new Young Readers League program and selection,
sponsored by the Friends of the Pasadena Public Library!
This exciting program, in the spirit of One City, One Story
was designed as a school-wide community reading extravaganza.
Last year over 1,000 children in the Pasadena community participated in some aspect of our program –
by reading the book or attending one of our events, which included cape making,
comic book workshops, a pajama party and more.
Our Fall 2015 Selection is… Rump: The True Story of Rumpelstiltskin by Liesl Shurtliff
This wonderful debut novel gives us a new spin on a fairy tale classic.
Rump has never known his full name – his mother died before she could tell him.
So all his life he's been teased and bullied for his half-a-name.
But when he finds an old spinning wheel, his luck seems to change.
For Rump discovers he can spin straw into gold.  Magical gold.
His best friend Red Riding Hood warns him that magic is dangerous – and she's right!
That gold is worth its weight in trouble.
And with each thread he spins, Rump weaves himself deeper into a curse.
There's only one way to break the spell:
Rump must go on a quest to find his true name,
along the way defending himself against pixies, trolls, poison apples, and one beautiful but vile-mannered queen.
The odds are against him, but with courage and friendship – and a cheeky sense of humor – Rump just might triumph in the end.
Rump is available now!
You can stop in and grab a copy or give us a call at 626-449-5320.
This fall, Vroman's Bookstore and the Pasadena Public Library will be hosting all kinds of special Rump events and activities.
In November we're pleased to bring author Liesl Shurtliff to Pasadena where she will visit local schools, the Boys & Girls Club and the Pasadena Central Library (to meet you!).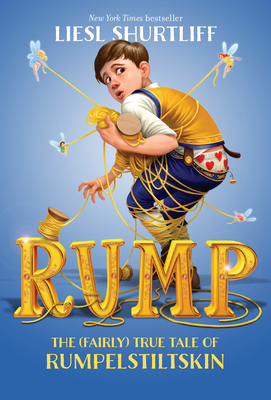 Upcoming Young Readers League Events:
Please note the location of each event and registration information.
Thursday October 8, 5:30pm
Teacher Appreciation Night at Vroman's Main Store
Saturday October 17, 4:00pm
Rump Kickoff at Vroman's Main Store
Join us for an afternoon of Rump-inspired crafts!
Learn to paint with "straw" to create your own masterpiece,
make your own gold putty and decorate a square for our story quilt.
Wednesday October 21, 7:00pm
Mother Daughter Book Club at Pasadena Central Library
Discussion of Rump. Girls and moms,
join us to discuss books that inspire compassion, self-esteem, and courage
in the face of social pressues, as we explore what it means to be a strong, confident young woman!
To register call 626-744-4066 option 4.
(For girls 10 and up and their mothers or an adult guest of their choice.)
Tuesday October 27, 10:00am
Fairy Tale Storytime at Vroman's Hastings Ranch
(Ages 3+)
Sunday November 1, 2:00pm
PARTY WITH RUMP at Vroman's Main Store
Our friend Rump (aka Rumpelstiltskin) is throwing a party at Vroman's!
Come prepared for surprises and special guests.
Tuesday November 3, 4:00pm
Gnome Home at Hastings Branch Library
Legend has it that if you build a tiny house in your yard, you just might attract a fairy or gnome.
Grab a basket and head outside to gather your building materials.
Bring all your materials to create a fantastic structure, to be envied by all the neighborhood gnomes.
Don't worry if you don't have all the supplies, additional building materials will be provided.
Registration required. 626-744-7262. Ages 10+
Wednesday November 4, 11:00am
Magic Show at San Rafael Branch Library
Like Kessler, the traveling magician in Rump,
join us for a magic show!
For all ages.
Thursday November 5, 4:00pm
Treasure Dig at Vroman's Hastings Ranch
Rump and his friends spend their days digging for gold in the mines.
Put your digging skills to work in our sand pool filled with golden treasures.
Exchange your gold for more games and prizes, but beware of the pixies…
Ages 4-12.
Thursday November 5, 6:00pm
Family Fairytale Night at Vroman's Hastings Ranch
Our monthly trivia night takes a fairytale turn.
Bring a team to test your knowledge, munch on snacks,
and possibly find a place on our Wall of Fame!
(Ages 10+ and adults)
Monday November 9, 4:30pm
Rump's Restaurant at Cental Library, Studio on 4th
Come have food filled fun as we create food and food-structures.
We'll make butter to put on Miller's bread, build a spaghetti tower for Rump's gold and
create some tasty troll sludge. Yum!
To register call 626-744-4066 option 4. Ages 8+
Wednesday November 11, 4:30pm
Kids Book Club at Pasadena Central Library, Children's Room
Join as we discuss and have fun with this year's Young Readers League book: Rump.
Register and pick up your book at the Children's Desk.
Call 626-744-4066 option 4. Kids in grades 3-5. 
Thursday November 12, 3:00pm
Teen Discover Day at Allendale Library
To celebrate Young Readers League, Allendale Library invites students to discover something about the novel, Rump.
Will we weave gold? Will we make gones or pixies to creep through the dark forest?
Come and see – you may be surprised! For teens.
Thursday November 12, 3:30pm
Gold Rainbow Looms at Santa Catalina Branch Library
Want to be like Rump and weave your own bracelet?
Kids ages 7 & up are welcome to make their
very own bracelets using the Rainbow Loom!
Saturday November 14, 11:00am
Gnome Painting at Linda Vista Library
Families are invited to build their very own magical Gnome!
Call 626-744-4066 to register.
Ages 7 +
Saturday November 14, 4:30pm
Kids Writing Workshop at Pasadena Central Library, Children's Room
Are you a dreamer? Do you love to write?
It's never too early to start writing your own stories.
Call the Children's Desk to register.
626-744-4066 option 4.
Ages 8-12.
Sunday November 15, 2:00pm
Rhyme Off at Vroman's Hastings Ranch
Rump is a master of rhymes, so at this event,
we'll do a writing exercise to create our own rhymes.
Participants can share their best rhymes
out loud and the most clever performers will win prizes.
(Ages 8+)
Sunday November 15, 4:00pm
Tribe of Endless Reading Book Club at Vroman's Main Store
Join us for a discussion and snacks at this special meeting of our middle grade book club.
Meet upstairs by the Squishables.
Ages 9-13.
Monday November 16, 3:00pm
Maleficent Movie at Allendale Library
Angelina Jolie stars as a teenager who is a powerful princess and
respected winged fairy helping to rule a magical land full of strange creatures.
Rated PG. Runs 94 minutes.
Tuesday November 17, 4:30pm
Tween Book Club at Hastings Library
Students ages 9-12 are invited to read great books and
make new friends by participating in a special book club just for Tweens.
Sign up by calling 626-744-7262.
Tuesday November 17, 6:00pm
Meet the Author at Central Library
Meet the author, learn the truth, search for gold! Celebrate Rump!
Meet author Liesl Shurtliff, go on a scavenger hunt, don disguises in the photo booth,
snag a prize, and munch on themed snacks. Free event!
Thursday November 19, 3:30pm
Trees of Gold at Hill Avenue Library
Create a tree or a whole forest withs leaves of gold.
All materials are provided. For all ages.
Thursday November 19, 4:30pm
Teen Hand Lettering at Central Library, Studio on 4th
Transform your handwriting into artful drawings.
Style a phrase or your name and develop an illustrative concept that matches its mood and tone.
Led by Alethea Allarey.
For teens. To register call 626-744-4246.
Saturday November 21, 3:00pm
Doll Making at Lamanda Park Library
Sew your own Rump inspired doll with artists Liane Shih.
Call 626-744-7266 to register. Ages 8+